Back in late September my wife was scheduled to attend a work-related conference in Washington D.C. We decided to fly to Washington and then add a few vacation days after the conference to drive back to Texas through Virginia, West Virginia and Kentucky. The conference did not start until Monday September 26th but we flew from Love Field via Southwest to Reagan National early on Saturday morning. When we arrived we rented a Chevy Tahoe and had lunch in Alexandria before checking in at the Gaylord National Harbor Hotel on the Potomac River south of Washington.
Sunday was check in day at the conference and afterwards my wife planned on visiting George Washington's Mount Vernon estate with some of her coworkers. I had Sunday, Monday and Tuesday to railfan before the conference wrapped up Wednesday morning. Before leaving home I had researched meticulously with Google Earth and maps and timetables. I wanted to avoid Washington highway traffic and high security areas such as Union Station so as to have a more pleasant experience. As a result my plan was to spend time east of Washington on Amtrak's Northeast Corridor and south of Washington on the ex-RF&P now used by CSX, Virginia Railway Express and Amtrak.
Sunday was forecast to be clear, and in terms of reduced traffic on I95 and empty commuter rail station parking lots I decided this would be the best day to spend a few hours on the Northeast Corridor. I planned to hang out at the Maryland Area Regional Commuter (MARC) station in Seabrook, Maryland about twelve miles east of Washington as it is unmanned and in a quiet suburban area with no MARC or Amtrak trains stopping on a Sunday. I left the hotel at 10:00 am and with light traffic made it to the Seabrook station by 10:45 just as an eastbound Acela flashed by with a quickly fading roar.
The parking lots and platforms were empty, and I counted over a dozen security cameras and loud speakers on each platform monitoring every angle. The pedestrian tunnel connecting the platforms under the three track mainline that separated a residential area from local businesses was in fairly constant use by locals, so I decided to situate myself on the eastbound platform with the light behind me and my camera plainly visible. If the security cameras were monitored on a Sunday and someone objected to my presence I figured I would either hear about it through a speaker or get a visit from law enforcement.
Within a few minutes another eastbound Acela zipped by. I was set at ISO 400, 1/2000 of a second at f5.6 to freeze the motion as the train was moving in excess of 100 mph.
I had to look it up later that these Acela train sets built by Bombardier and Alstom were introduced in 2000 and are composed of two 6200 horsepower units with either six or eight coaches in between. Ten minutes later I caught my first westbound led by a 8600 horsepower Siemens ACS-64.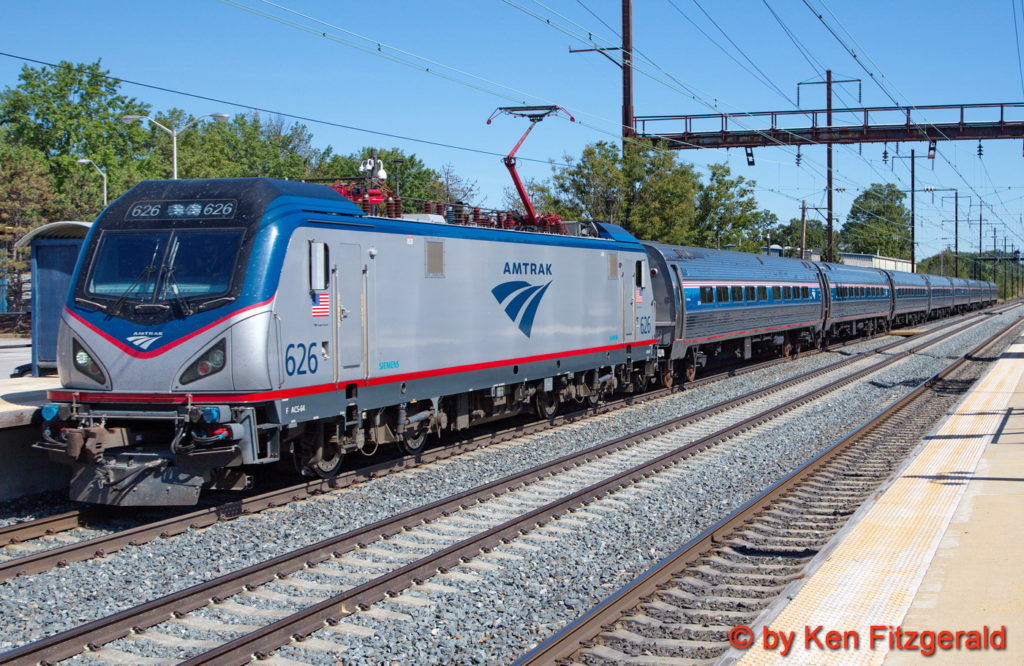 Not long after an eastbound on the center track.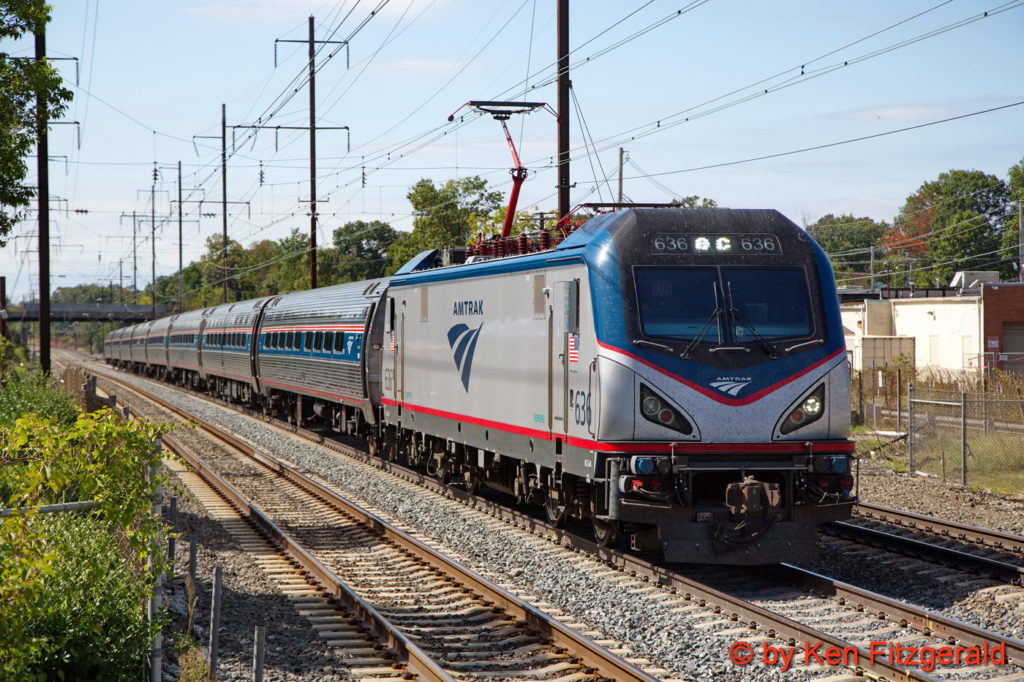 After a meet somewhere to the east here is a westbound Acela on the middle track.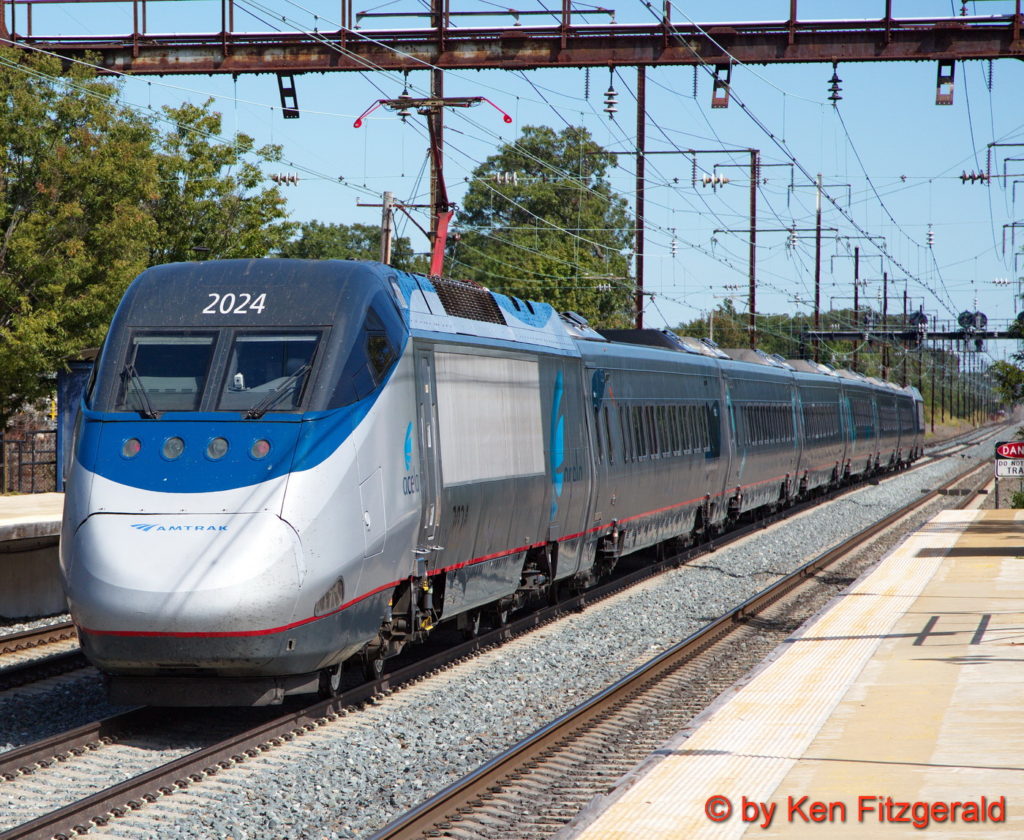 Next a westbound led by another ACS-64 coming and going.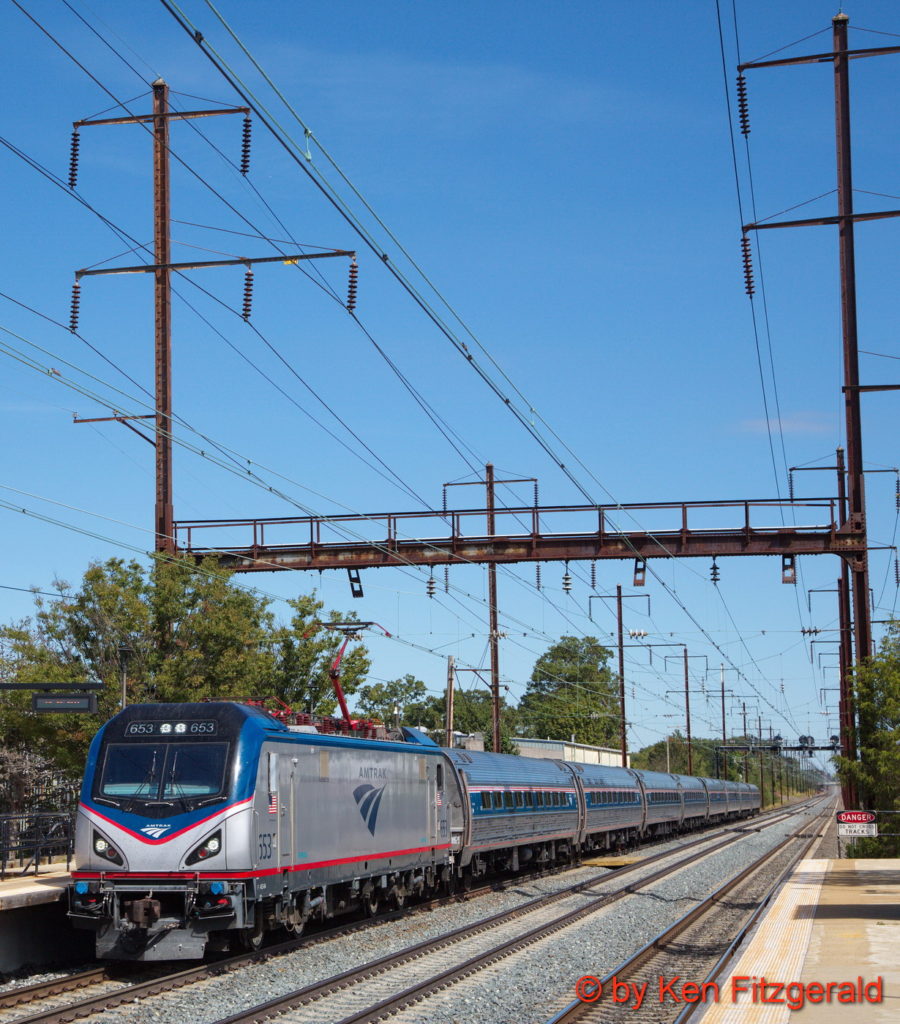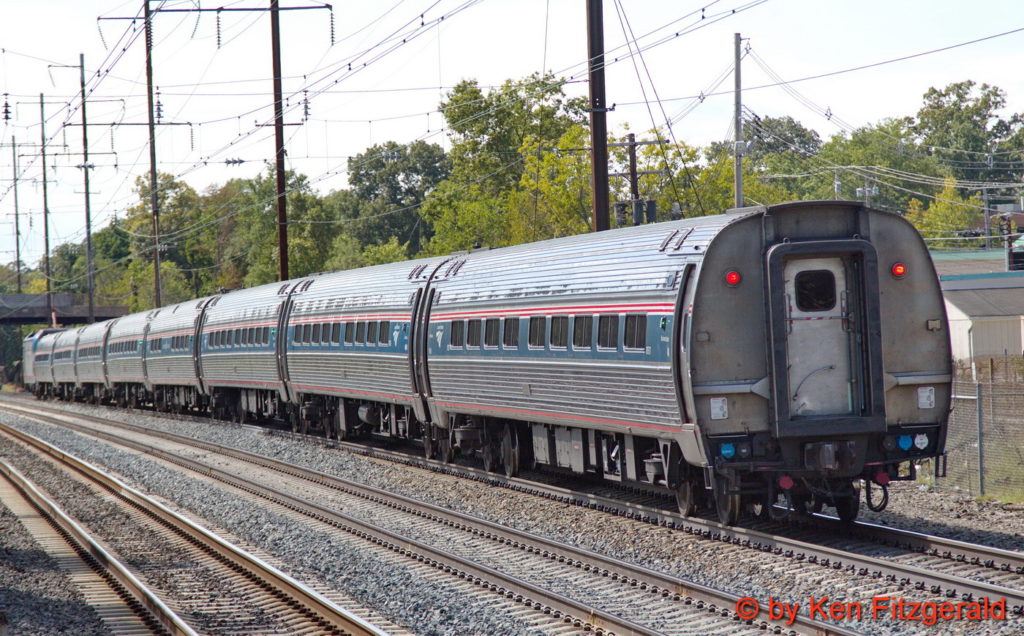 Next for a bit of variety was a westbound MARC train led by a cab car and with two MPI MP36PH-3C locomotives pushing.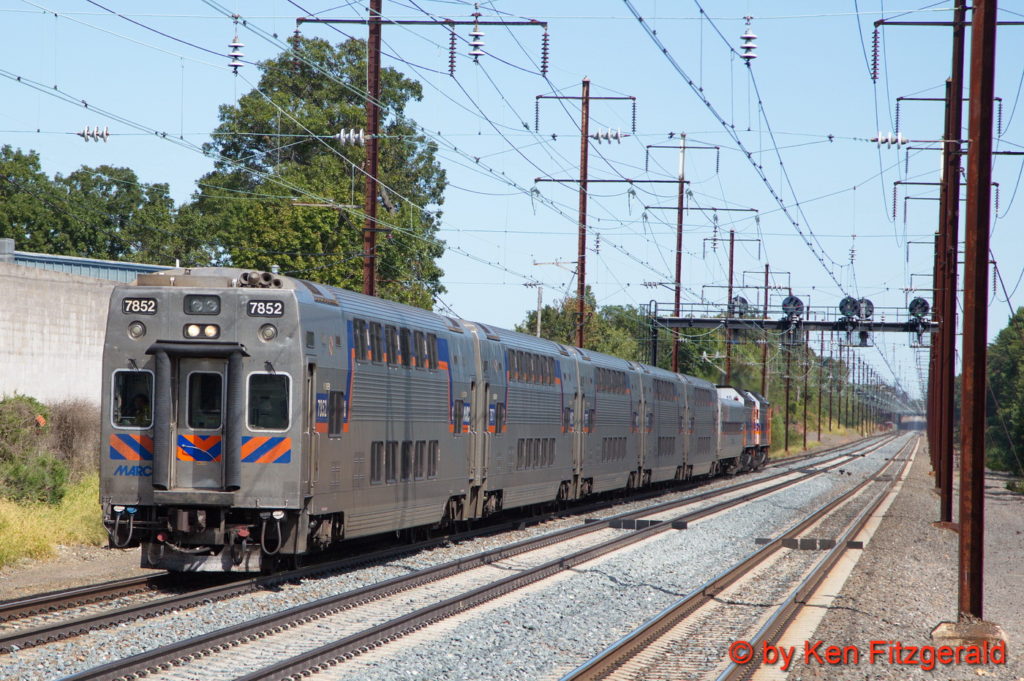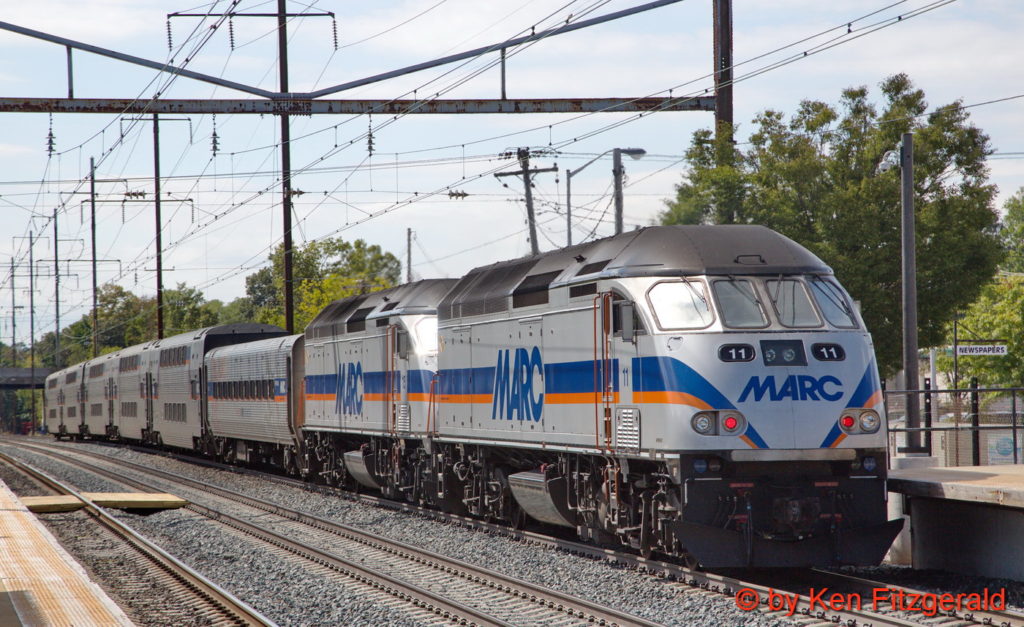 Later on an eastbound with a ACS-64 pulling.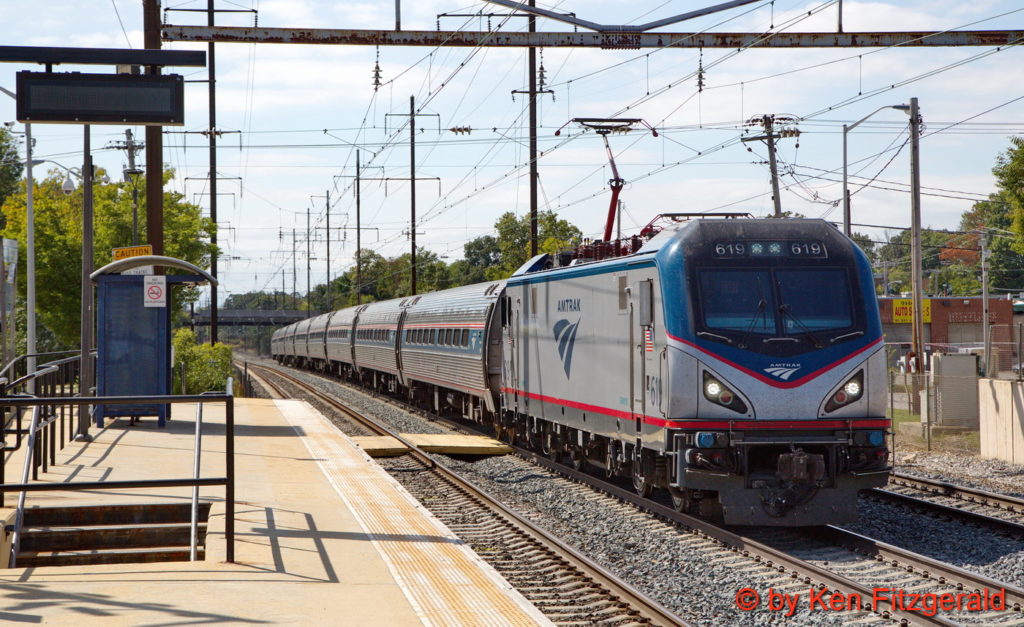 A westbound Acela seen from the end of the eastbound platform.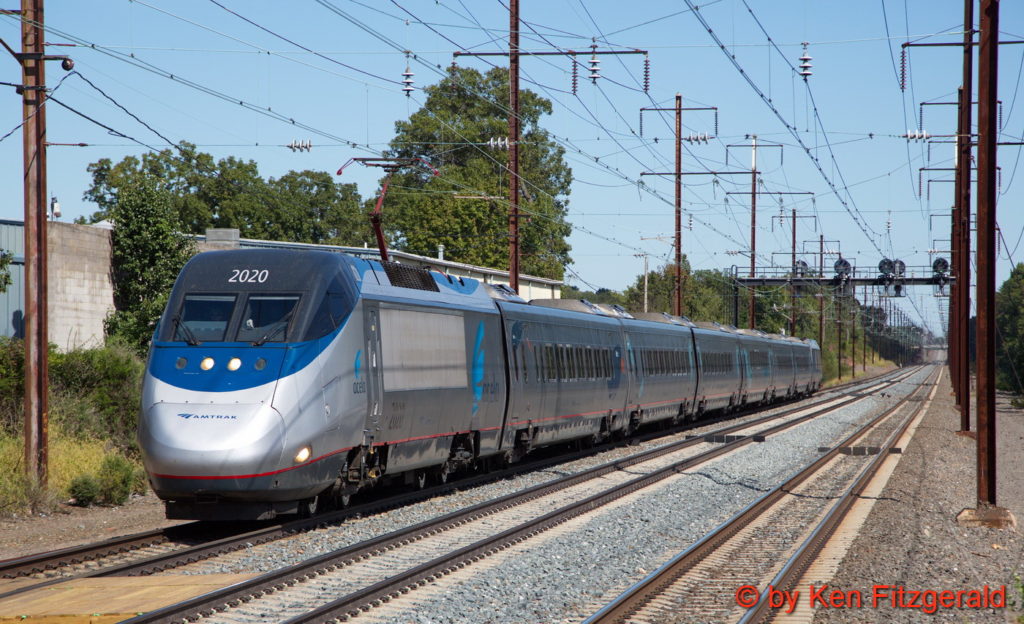 Not far behind another westbound led by a ACS-64.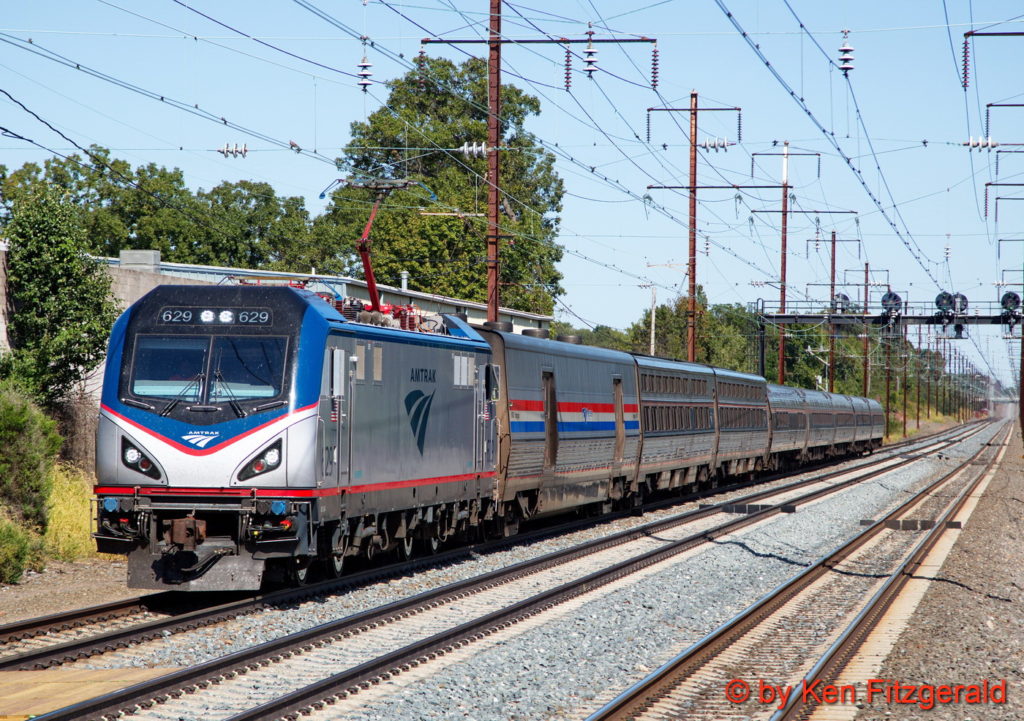 And a final going-away photo of another westbound MARC looking nearly identical to the earlier train.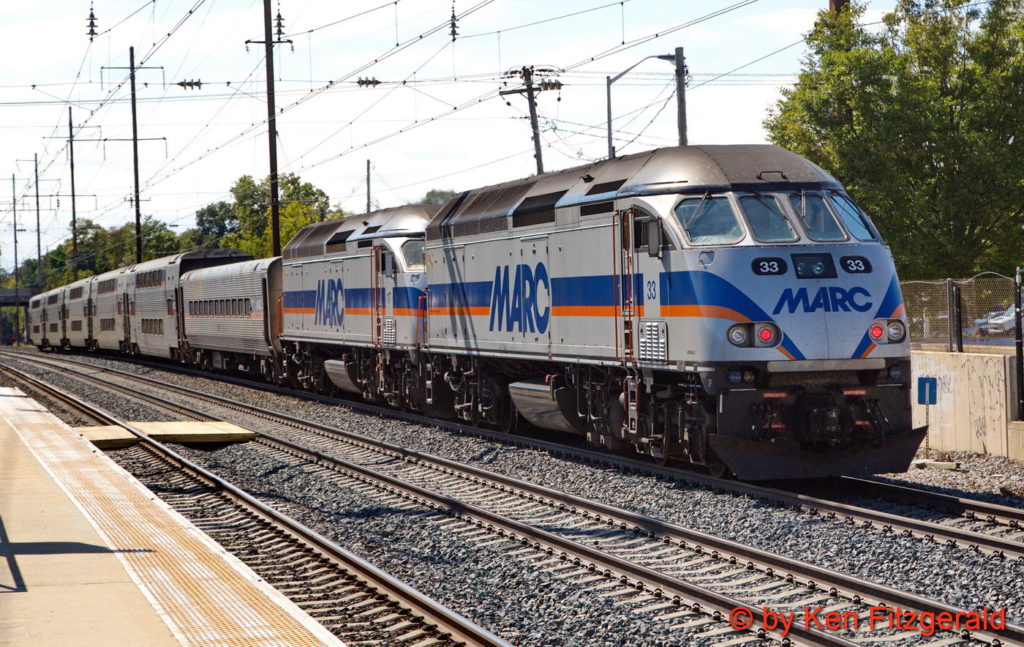 This sign shows they take trespassing seriously here. I noted two individuals cross the tracks on foot at a distance during my stay.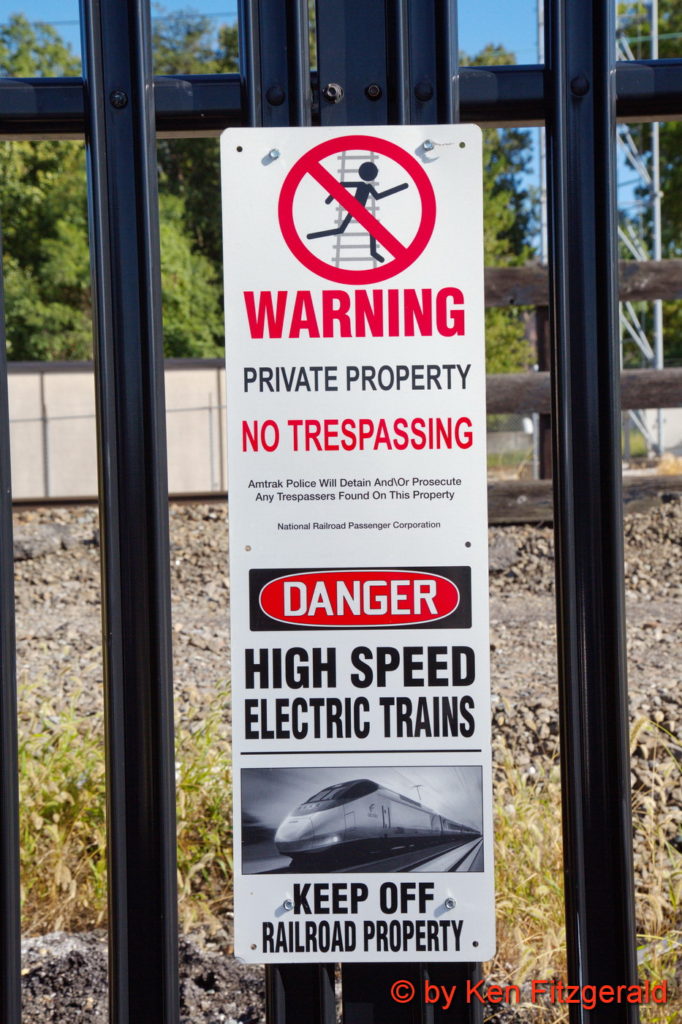 In total I stayed on the platform for three and one-half hours and actually photographed twice as many trains as I shared here, but saw no reason to show more Acelas and ACS-64's and MARC trains that all look alike. If I had more time I would have sought out more locations with different backgrounds. While I was on the platform no one ever came to check me out or ask me to leave which was refreshing.
I headed back to the hotel as my wife and I had signed up for a tour of Washington at night with other conference attendees.