On the afternoon of Wednesday February 7th I headed towards Mansfield to attend the funeral of the niece of a long-time friend. Thanks to other friends I was aware that Amtrak trains 21 and 22 were detouring over the UP between Temple and Fort Worth for the first of three days while the BNSF performed intensive track maintenance. I determined I had more than adequate time to pause in Burleson and catch Amtrak 22 northbound before heading on to the funeral home. I looked around and then chose this location just north of Renfro Street looking south as being readily identifiable as a town off the train's regular route. Since the train would be effectively coming out of the sun I moved off to a wider angle and included the mural with the word "Burleson" plainly visible. See what you think of the results in this photo that is as much if not more about the location than the train.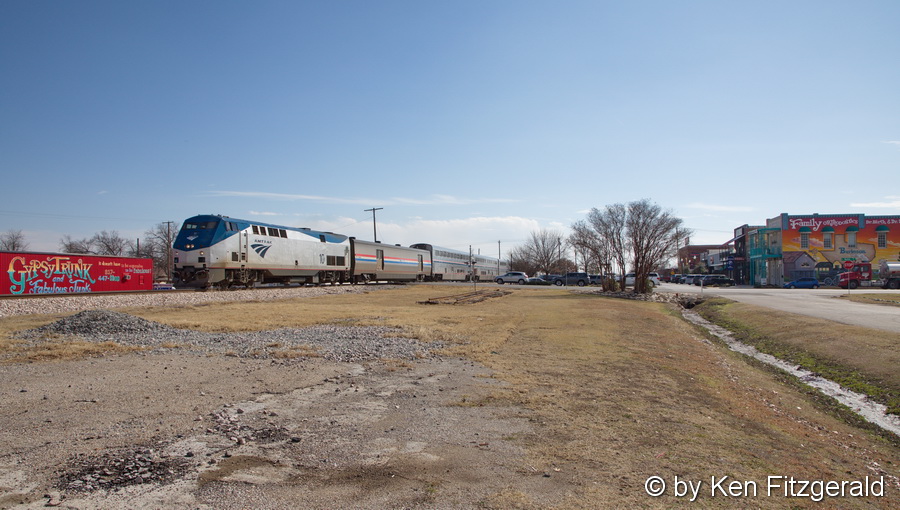 This spot also fit my philosophy perfectly for a going away shot. Can you spot the tell tale?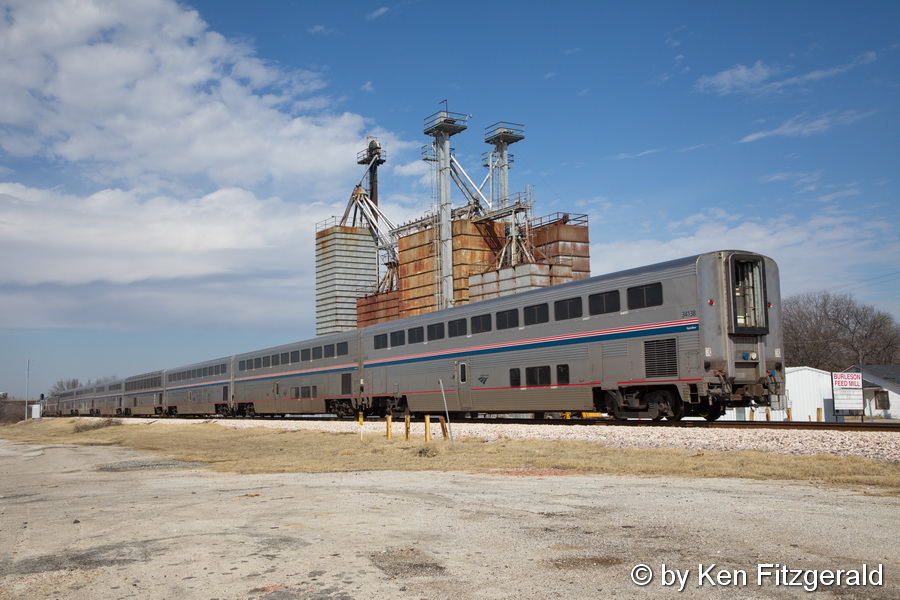 Train 21 was waiting in the siding at Wrenn in south Fort Worth but I needed to head on to the funeral home. It was a very nice service and as the young lady was only 28 years old at the time of her passing the minister made a good point when he said "the family will be angry about the time lost but should also be thankful for the time they had." After the service and visiting time I got back in my vehicle preparing to head for home. Immediately the radio came alive with a detector transmission on the nearby UP Midlothian Sub just a few miles to the north of my location. I changed course and drove to just west of downtown Mansfield and a few minutes later photographed the UP 6670 South crossing Walnut Creek.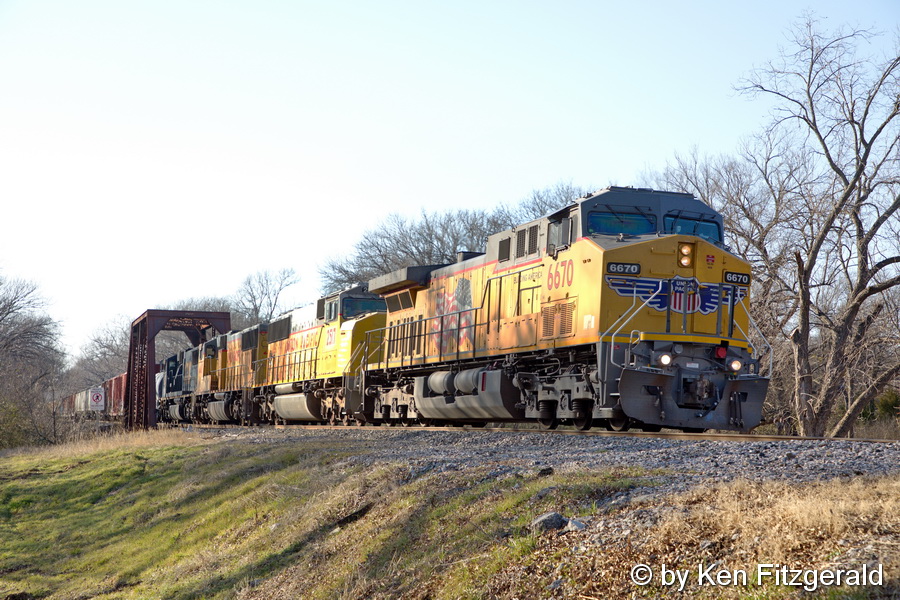 Now definitely on the way home westbound on FM 1187 as I approached Crowley I heard a conversation between two BNSF trains about to meet there. I detoured into town and could see the work window responsible for the Amtrak detours was over for today due to the large number of maintenance of way vehicles tied down in the long house track. I set up down by the south end of the siding and quickly caught this northbound bare table train pull into the siding.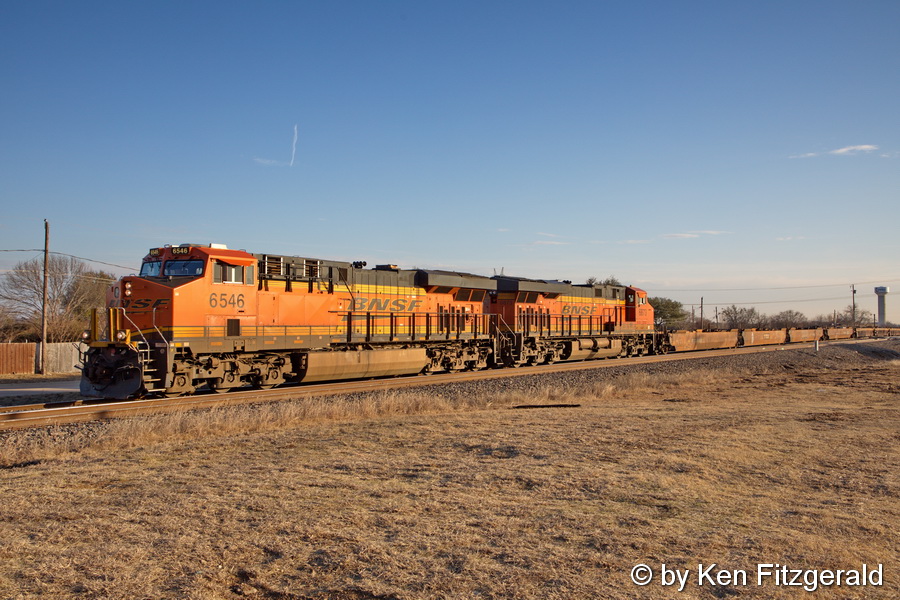 I could tell from the horn the southbound train was led by an SD70Ace and sure enough the BNSF 8444 (diesel, not UP Steam!) was leading a loaded coal train on the main.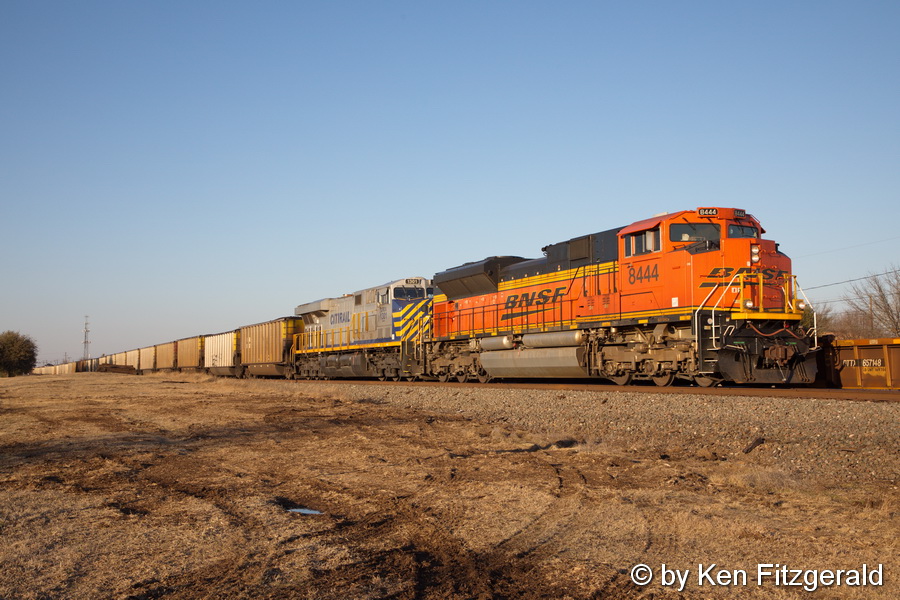 For one final shot for the day I moved to a better spot for this view of the DPU's going away from me with another SD70ACe trailing.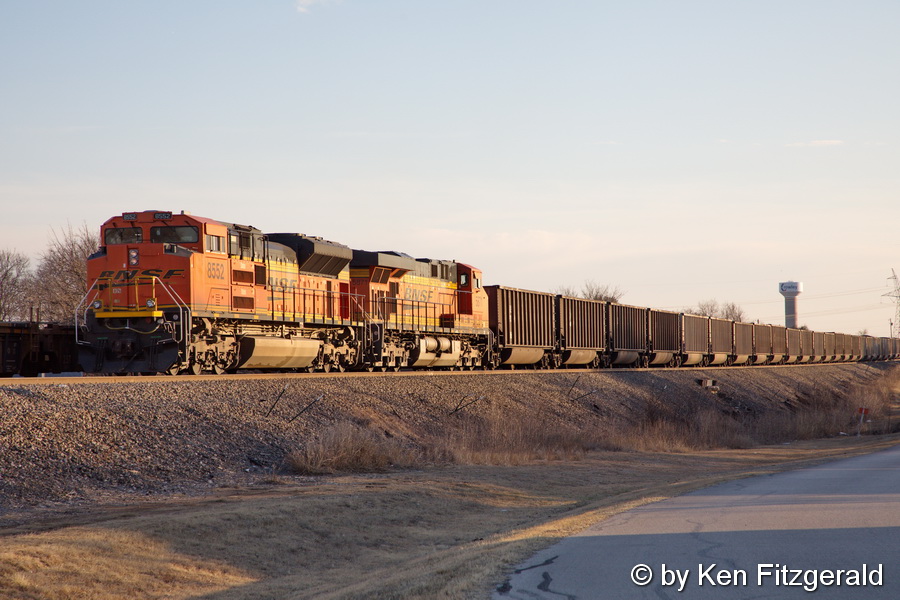 So ended a day of remembrance, reflection and being thankful for the time you have.