No FWWR road freight to photograph on Sunday afternoon? As it turned out all I had to do was wait 24 hours to rectify this situation!
Monday morning I got a text from the FWWR dispatcher's office that the 403 Job would go on duty in Dublin at 9:45 am and take 103 empty frac sand cars to Cresson before returning with 75 frac sand loads to be forwarded to Texas Pacifico at San Angelo Junction over BNSF trackage rights. What made this even more interesting was since Sunday's FWCR did not arrive in Cresson until Sunday night as described in yesterday's post, an extra board crew would go on duty at Cresson at 12:00 pm as a 405 job to take around 60 merchandise cars south to Dublin.
I took care of a few chores at home and left around 11:00 am with the intention of grabbing a bite to eat in Cresson and then heading on west until I intercepted the 403 Job coming east out of Dublin and chase it back to Cresson. Then I would catch both the 403 and 405 jobs heading west out of Cresson. I stopped at Subway in Cresson at 11:20 and just as I sat down with my sandwich I got a text from the dispatcher's office that the 403 job left Dublin at 11:10 am.
I quickly finished off my sandwich and headed west on highway 377 thinking I should be able to make it to Bluffdale west of Granbury for my first photo. As I crested the hill south of Tolar I called for the train on my truck radio and got a response that they were about five miles south of Bluffdale. Success! I zipped over the last two miles into town and set up for a shot of them passing the Bluffdale sign.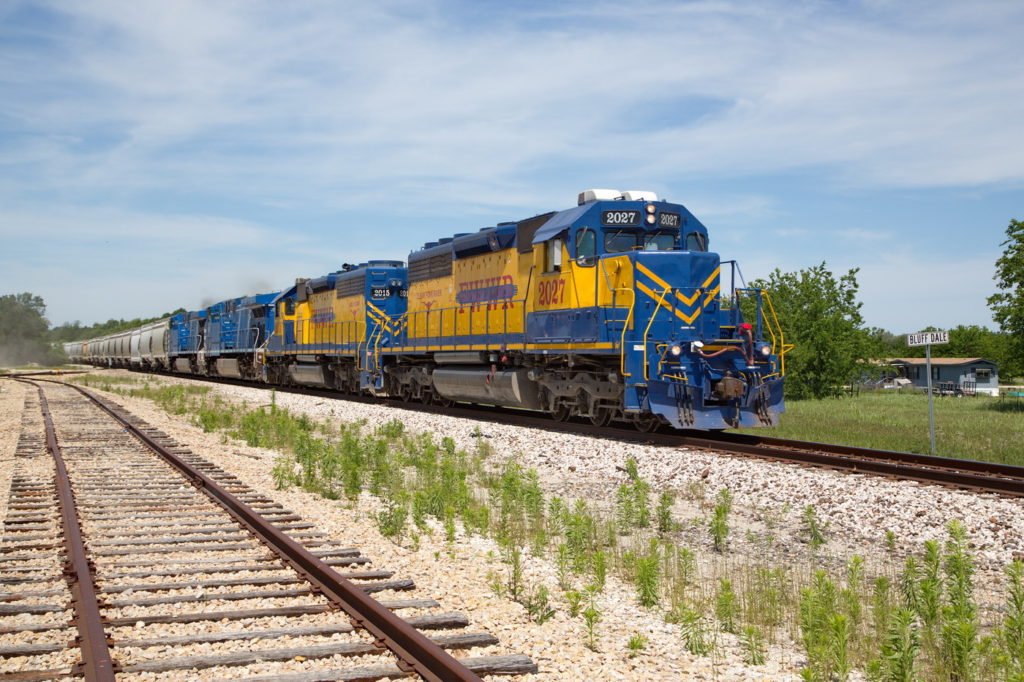 I had seen three FWWR SD40-2's parked in Cresson that I guessed would be the power for the 405 extra job, but until now I had not inquired about the power for either train. A total of 14,800 horsepower in the form of two SD40-2's and two lease-to-own CEFX AC4400's was overkill for 103 empty sand cars but not so much when they would soon be hauling 75 loaded sand cars back west over hilly terrain. I gave the crew a highball on the radio and followed them back east.
I easily beat the train to the Colony Road Crossing half way down the grade between Tolar and Granbury for my second shot.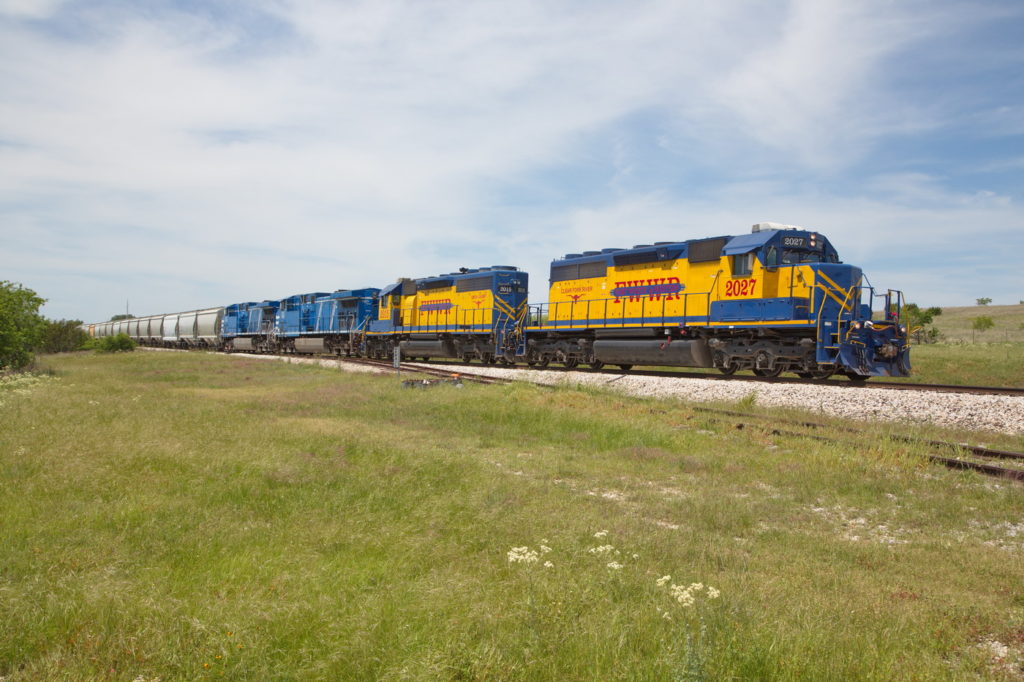 With all the traffic lights in Granbury I was sure the train would beat me to the east side of town but another location check over the radio indicated I had time to pull over for this view of the train coming up grade off of the Lake Granbury / Brazos River bridge.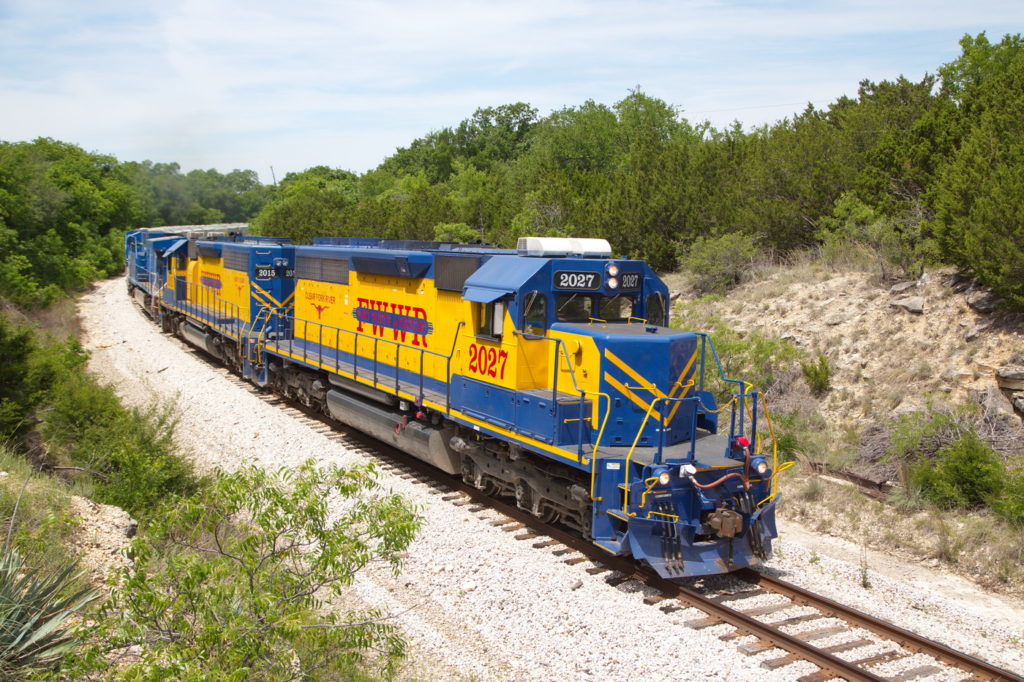 From here I drove to the highway 171 crossing at the west end of Cresson for one more view of the inbound train as it approached the siding.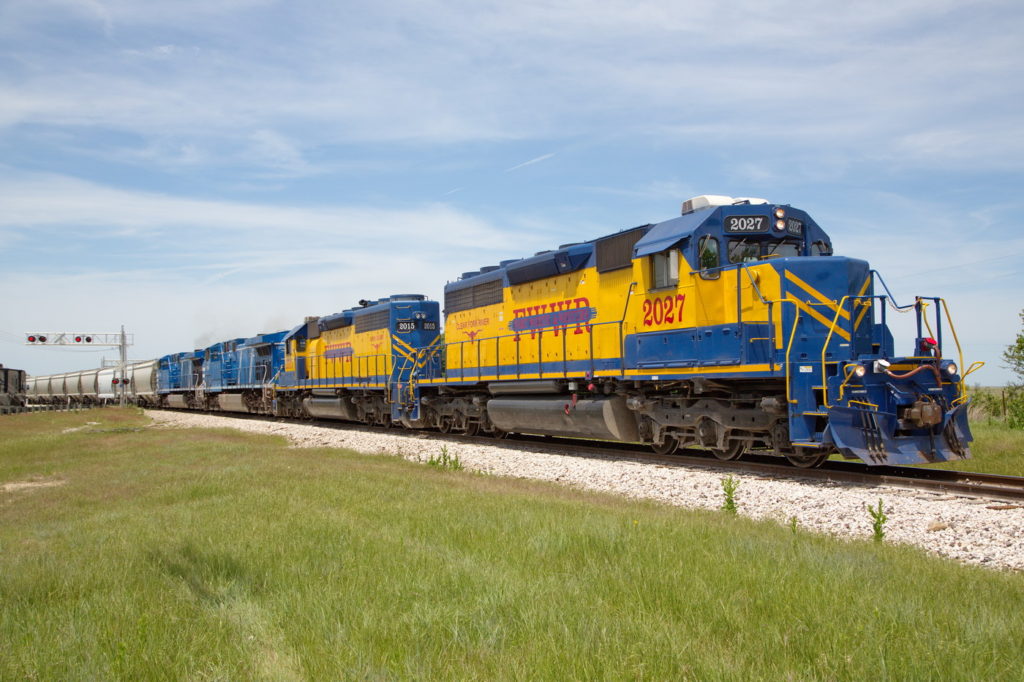 Now in restricted limits the east bound train headed up the main and a minute later met the 405 job in the siding as that crew was putting their train together in the siding on the right with the three SD40-2's I had seen earlier.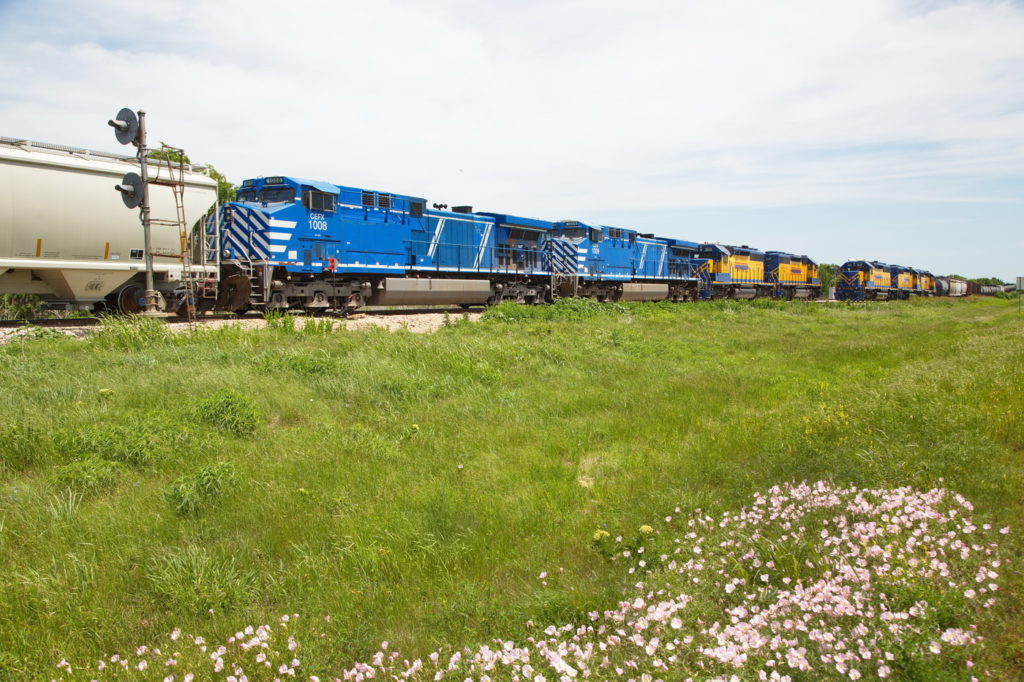 After the 403 job cleared here is a view of the 405 job's power with an identifying landmark.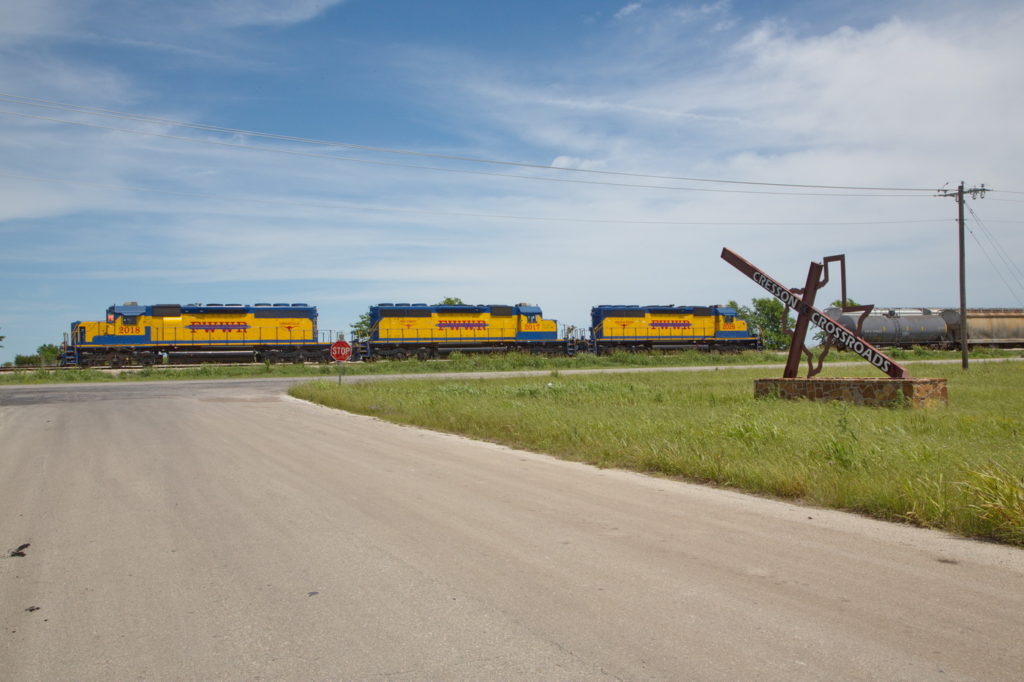 After putting their train together and walking an air test the 405 job left the siding at Cresson on its way back to Dublin.
I beat the train down to the highway 171 crossing for one final photo as they were preparing to enter TWC territory.
A few minutes later the now loaded frac sand 403 job pulled past me and stopped on the other side of highway 171 so the conductor could walk the train and perform their air test. This would also give the 405 job time to get down the line and release a few miles back to the dispatcher so the 403 job could get its own warrant to leave town.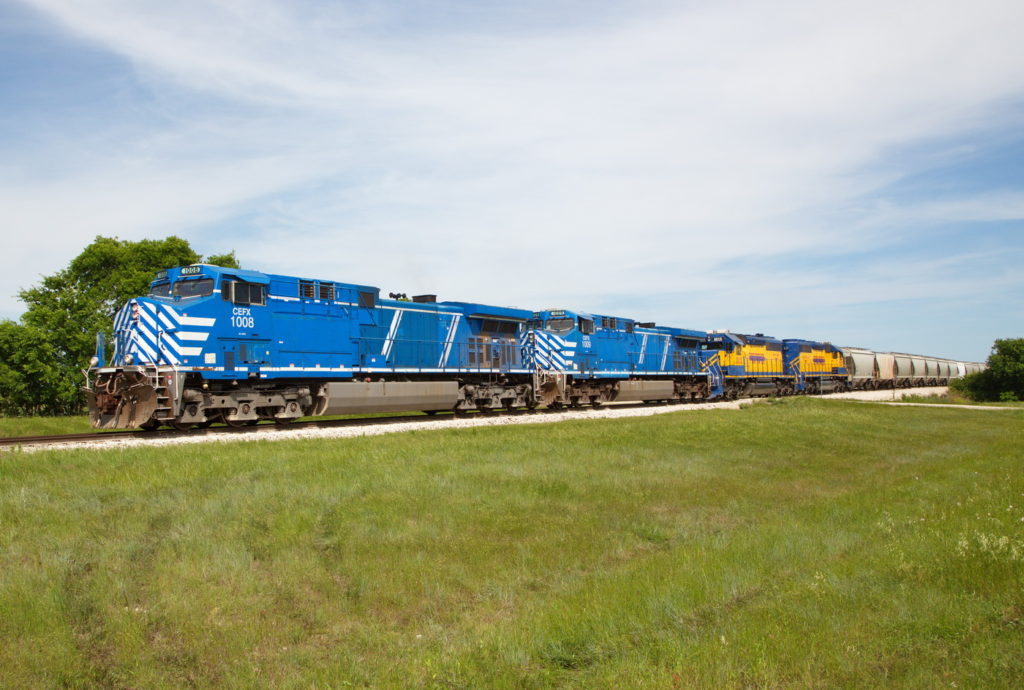 It was now after 4:00 pm and while I would have liked to chase both trains back west to Dublin I needed to get home. I did not feel too bad as looking in the viewfinder at these photos I felt like I had already done well enough for the day and made up for Sunday afternoon's meager results!