One of my recent assignments for BNSF was to photograph the dedication event for their new Cadet Yard in San Antonio on September 15th.  Construction started last year on ten yard tracks, one departure track and a siding that can hold up to 350 cars in Van Ormy beside the UP Sunset Route just southwest of UP's Sosan Yard.  Cadet Yard (so named to honor the cadets at nearby Lackland Air Force base) is intended to increase efficiency of operations over Union Pacific trackage rights between the Mexican border crossing at Eagle Pass and other points in south Texas.
BNSF has two tracks at their disposal in the UP yard at Eagle Pass for inbound and outbound traffic.  This meant that before Cadet Yard trains of unblocked cars from Mexico had to travel to Temple and other BNSF yards before they could be switched.  BNSF crew changes between Eagle Pass and Temple had to take place somewhere on the busy UP main line with minimal delay.
With the dedication ceremony starting at 10:00 am on the 15th I drove down from Benbrook on the 14th with the idea photographing a few trains along the way.  Driving east through Crowley towards I35, I witnessed the tail end of a BNSF northbound empty coal train on the Fort Worth Sub main as it passed what looked like a southbound sand train in the siding.  I could not see the power on the sand train nor had I checked the BNSF computer before I left the house, so on an impulse I turned south and stopped about a mile south ahead of the train as it came out of the siding.  This turned out to be a good choice as the lead unit turned out to be a new locally built CSX ET44AH #3423.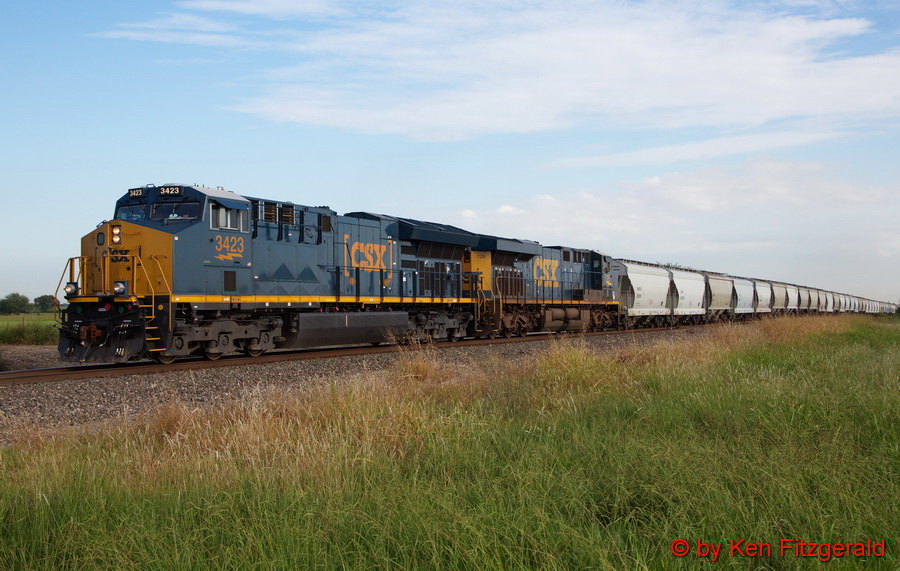 As the cars monotonously streamed by I quickly checked the computer and saw this was a 115-car, 16,000-ton train with a 2 x 2 power configuration.  In another minute the two DPU's roared by heading towards Cleburne.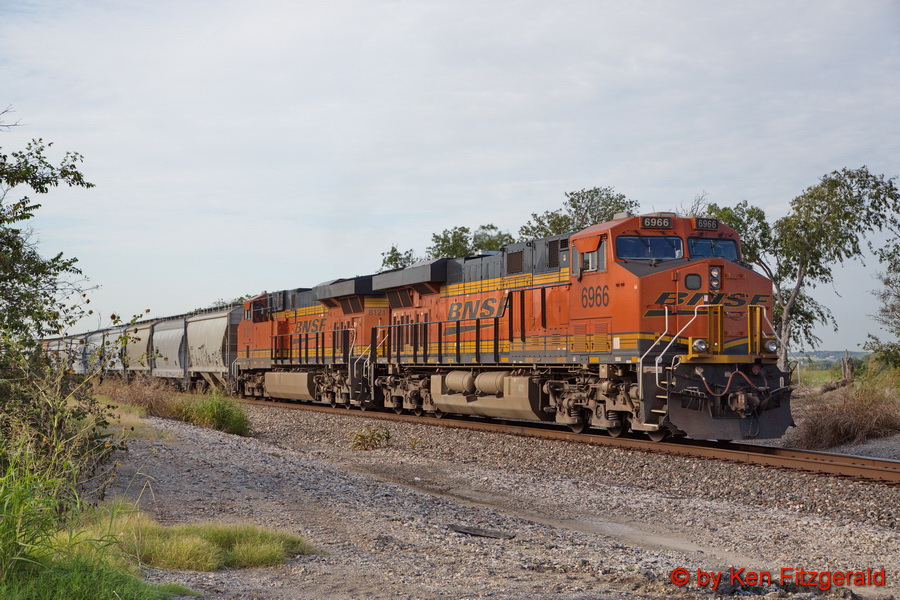 Nothing else was close here so I took I35 south to Waco and then Highway 77 south to Cameron on the BNSF Galveston Sub.  A quick check of the computer showed no trains nearby so I drove on to Rockdale on the UP Austin Sub.  Luck was against me this time as I arrived at the restored depot 30 seconds too late to shoot a northbound UP train passing the structure.  I drove on southwest a few miles to the Rockdale, Sandow and Southern, now a Genesee & Wyoming property.  Indeed just as I drove up to their entrance I saw an orange and black MP15 switcher pulling into the shop and the door instantly closed as if they knew I was coming.  Oh well!
I drove back to Rockdale and since I was not on a strict schedule decided to wait a bit to see if I could catch another train passing the depot.  I read several back issues of Railfan & Railroad and Trains, and then was rewarded with this northbound UP intermodal with two KCS units for power.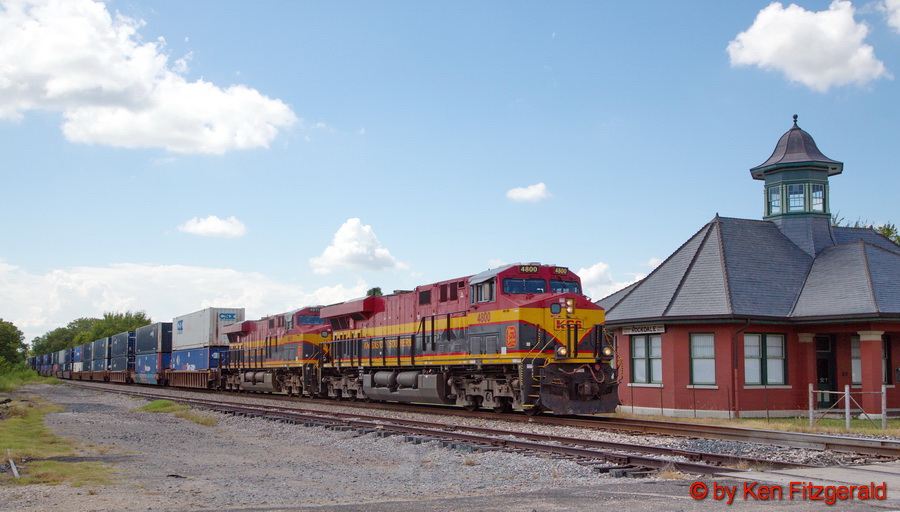 Continuing on south, as I drove through Giddings I could see the UP Giddings Sub signals were set for a northbound to enter the siding. I did not see a shot I liked in town so I headed on south.  Between Giddings and Winchester I caught the BNSF 7320 north in a farm setting on its way from San Antonio to Temple.
With no highway bridge paralleling the railroad over the Colorado River between Winchester and West Point, I detoured the long way around to the east through La Grange where I stopped to photograph the old M-K-T depot.  One day I hope to catch a train here!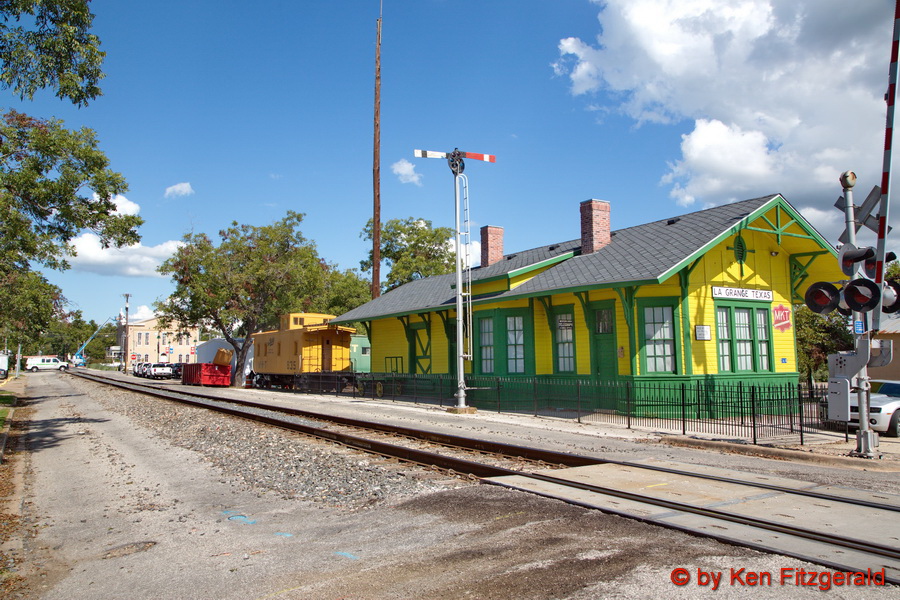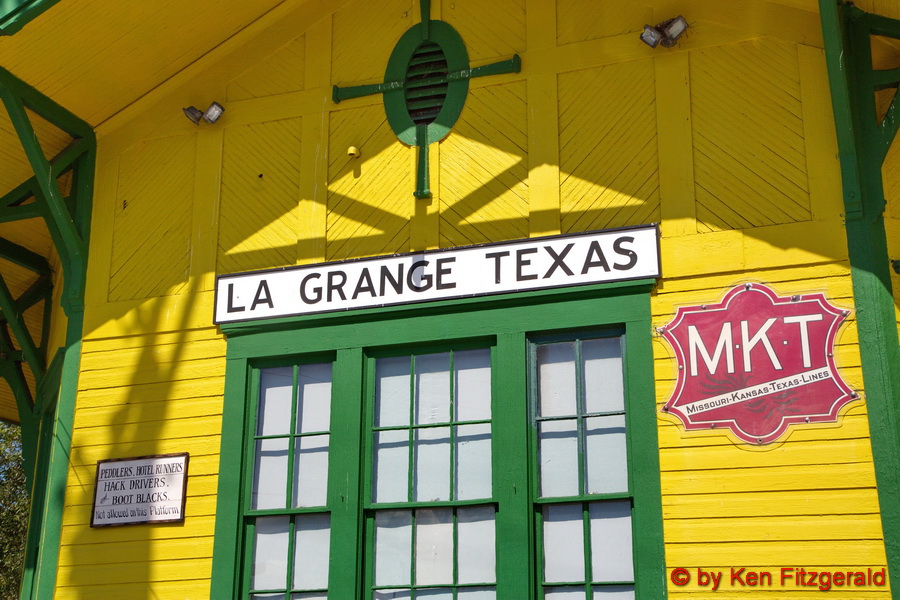 On the radio I heard the northbound BNSF train I had photographed take the siding at Giddings and be advised by the dispatcher they would be there for three southbound UP's.  A second northbound BNSF out of Flatonia was passing West Point and going to Winchester to clear up as I left La Grange.  I arrived in West Point a few minutes ahead of the first southbound UP as it curved around the wye from Giddings towards Smithville and on to San Antonio.  La Grange is to the right across the diamond and Flatonia is behind me.
I had my UP PPE on and was checking the wye for future photo angles as the second southbound, a ballast train, came around the curve also on its way to Smithville.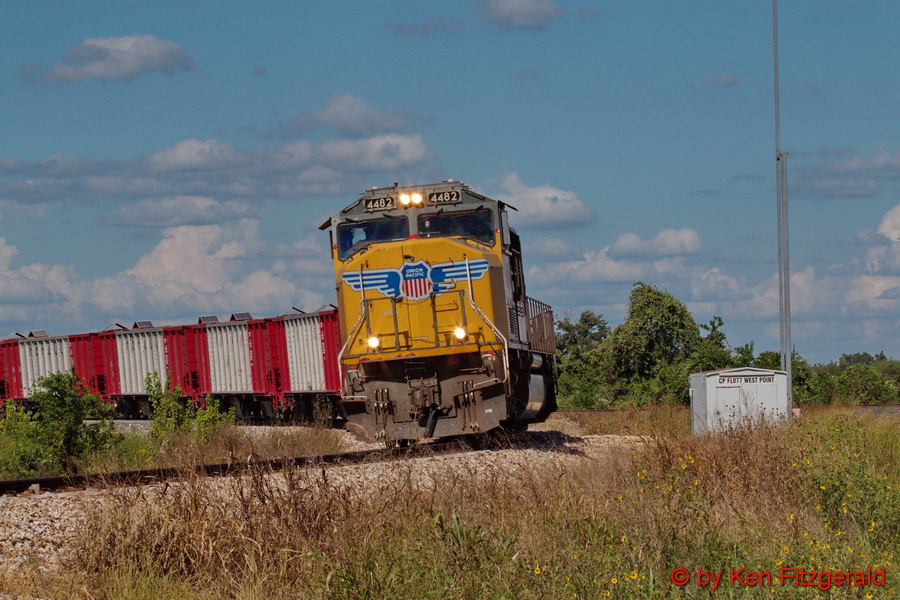 The third southbound train was further back so I decided to head on south to Flatonia as it was now after 4:00 pm.  As I arrived in Flatonia I heard a detector go off about ten miles to the west and a quick check of the signals showed an eastbound was lined through town.  I worked with the afternoon sun and composed this view of the passing train to include relocated Tower 3,  an SP caboose, a park bench naming the town, and a building built in 1898 just in front of the moving locomotive.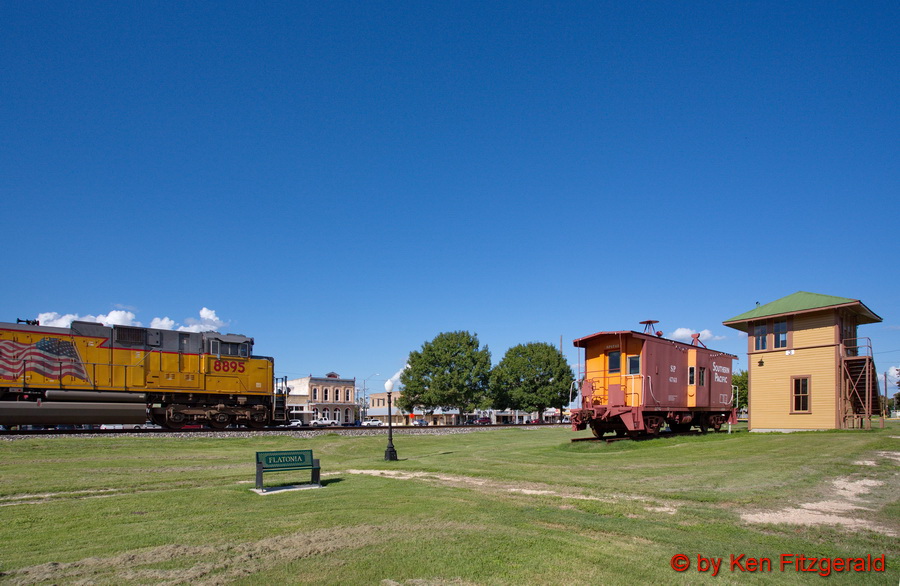 A few seconds later I captured more of the power before the view of the lead unit was blocked by the caboose.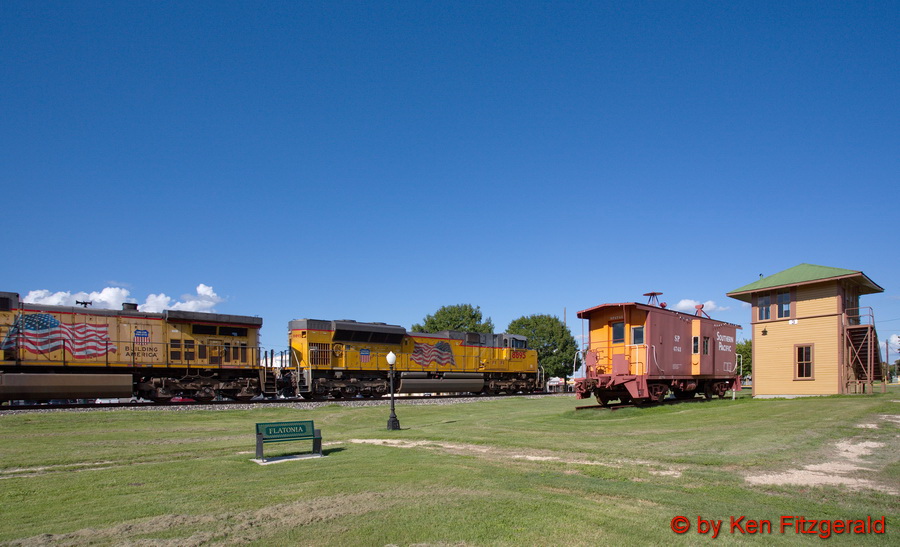 A much better view in my opinion than the back lit approach shot taken right before these two photos although the clouds do help it a bit.
Now it was just after 5:00 pm and I had at least a 90-minute drive ahead of me to reach San Antonio and attend a pre-event dinner at 7:00 pm.  I really had wanted to stop and visit with "Sidetrack" Tommy Shults but I had taken too long to get here so that would have to wait for another trip.  Next time Tommy!