I have neglected this blog and let nearly six months slip by without an entry. It was a busy fall with some of my work that I can share here and unfortunately a great deal I cannot share as it was done for paying clients. I will try to do better in 2020 and to start here is an adventure from a few days ago.
On Monday February 4th the weather forecast for here in Texas showed a possible snow accumulation northwest of the Metroplex. Not having taken any "trains dashing through the snow" photos since February of 2019, I decided this was probably my best chance for this year without a much longer trip somewhere to the north. Looking at the forecast snowfall versus active railroad tracks I decided on the Wichita Falls area.
So as to be at the potential epicenter of the action with minimal effort, I left home Tuesday afternoon and had an uneventful drive to Wichita Falls. It was raining when I went to bed and everything outside my window was white when I got up at 6:00 am Wednesday morning. There was an average of 4 to 6 inches of snow and slush on the ground when I dug out my Explorer and started west along the BNSF Red River Valley Sub just after official and invisible sunrise.
Not the foot of snow on the ground that I was hoping for, but at least it was snowing heavily several miles west of Iowa Park when I spotted an eastbound headlight in the gloom and had just enough time to find a good open spot for this view.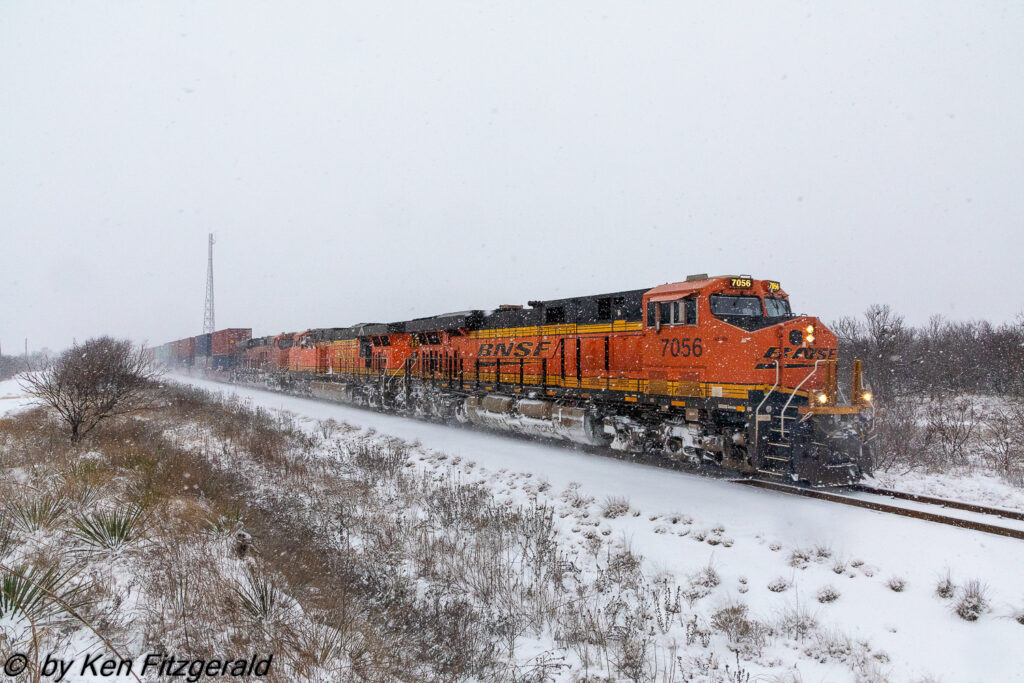 When I was processing these photos in Lightroom, for fun I also turned it into a black and white image.
The radio indicated this stack train would be going on into Wichita Falls where two westbound trains would depart after its arrival. I followed it back to Iowa Park where a M of W worker was cleaning out the switch at the west end of the siding.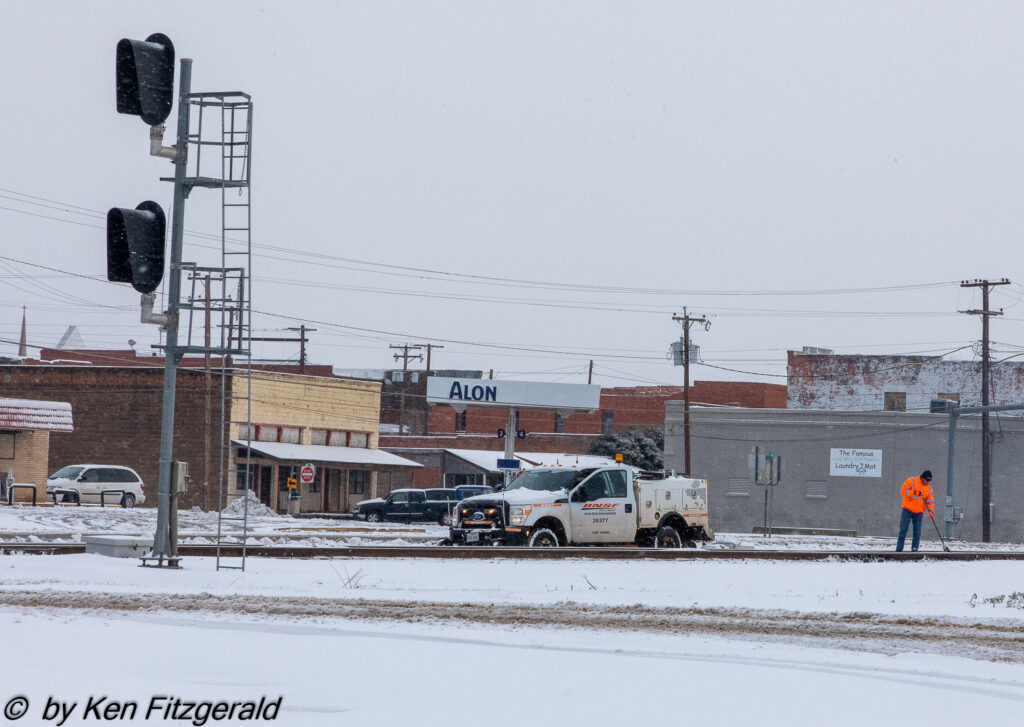 I waited a while and then a westbound bare table with one unit pulled up to the west end of the siding. I drove a few hundred yards west to a nice open spot and before long a westbound "Z" train blasted up the main at track speed raising a plume of snow in its wake.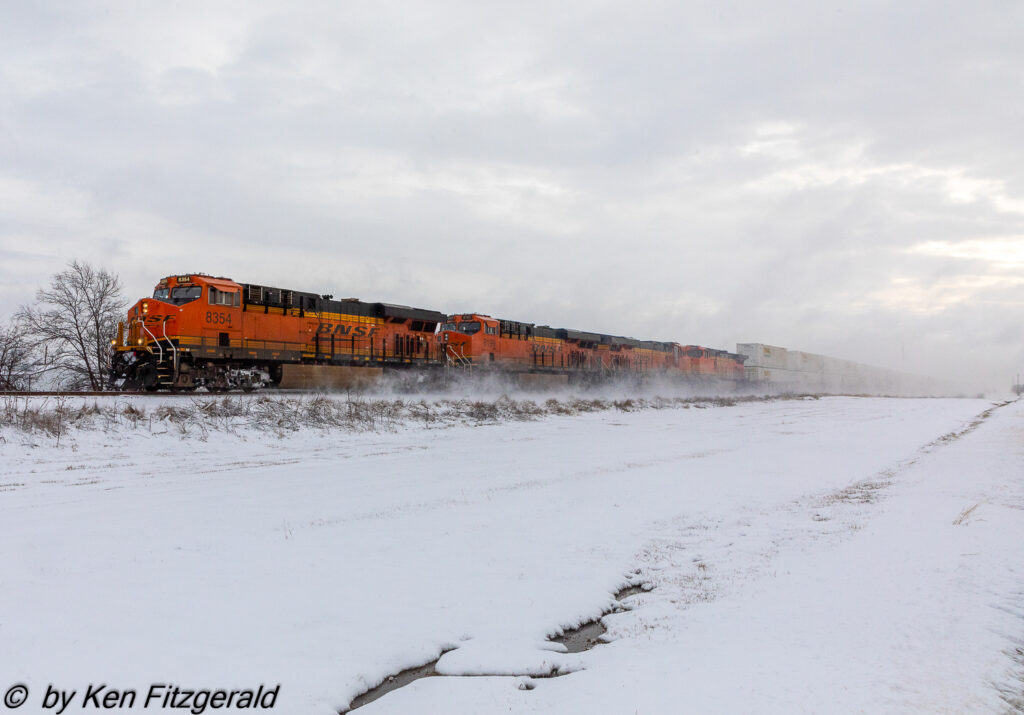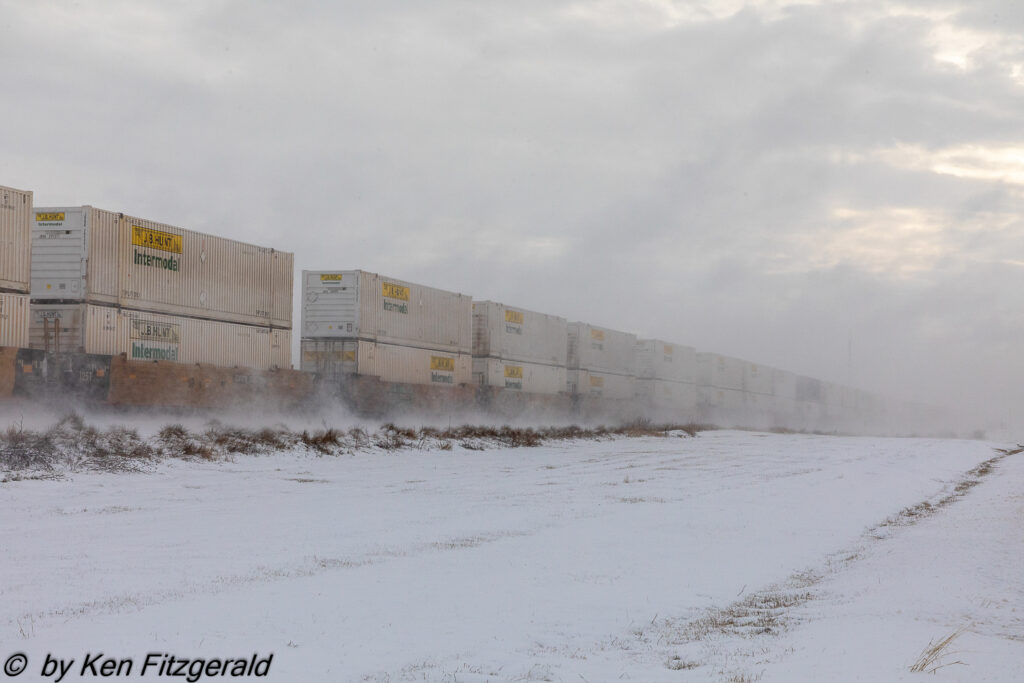 I drove back to the west end of the siding and as soon as the "Z" train was far enough ahead the bare table train moved out to follow.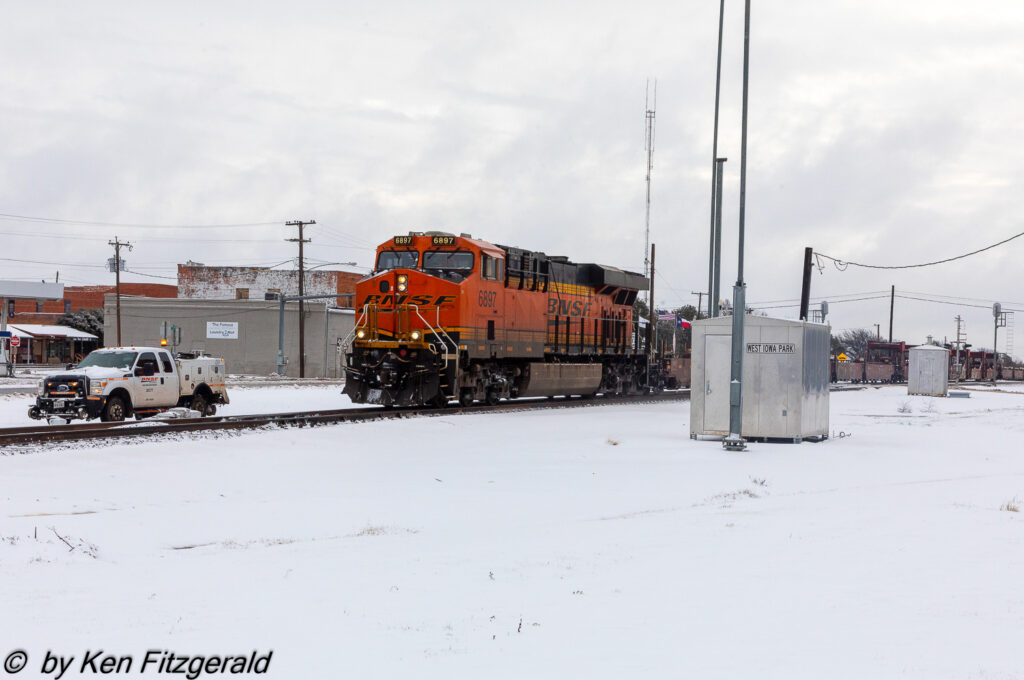 The radio indicated my next train would be another "Z" train that was still 40 miles east of Wichita Falls. With time to kill I explored the immediate area for interesting angles and decided to move on west to Electra for new backgrounds. While advertised as the "pump jack capital of the world" I could not find a single working example with a good location near the tracks. So instead when the next "Z" train caught up to me I utilized the abandoned elevator as my prop for these color and black and white renditions.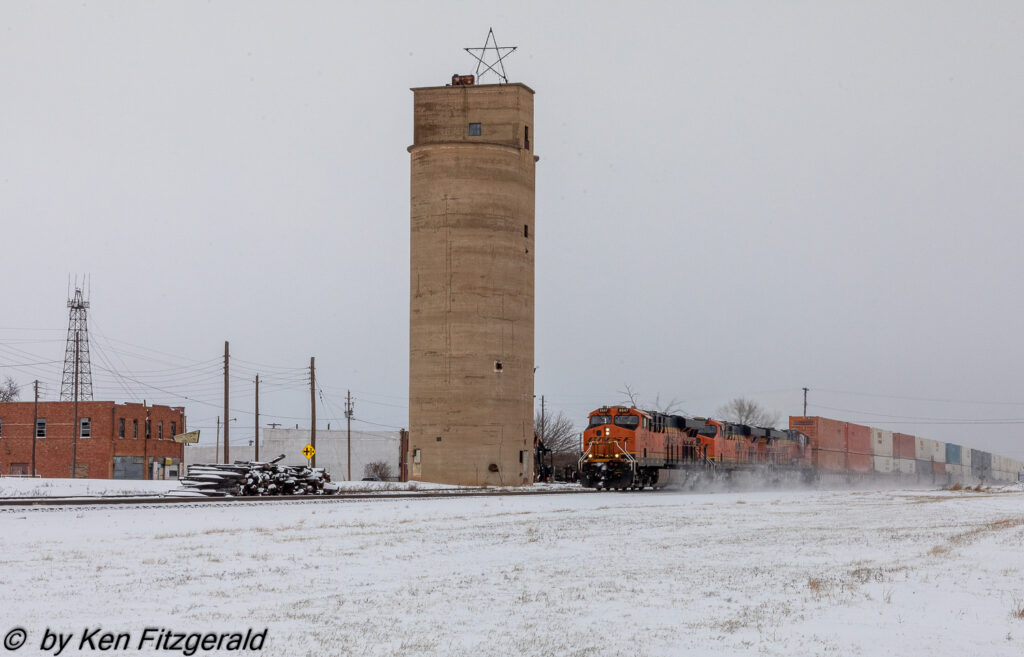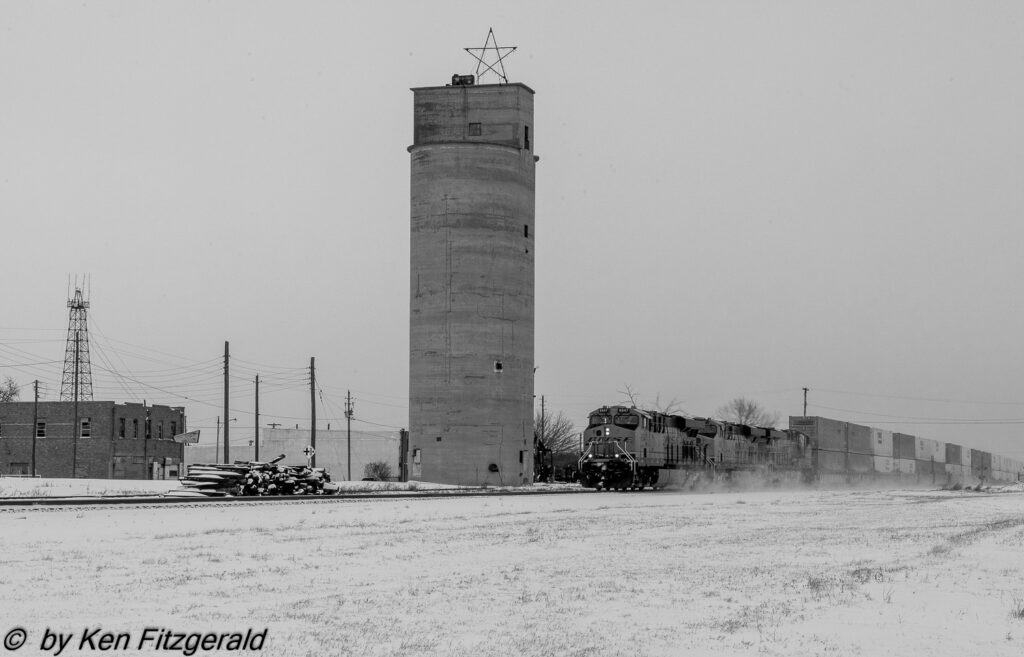 Not sure what was coming next I stopped at the east end of downtown for this view looking west with the old Electra railroad sign.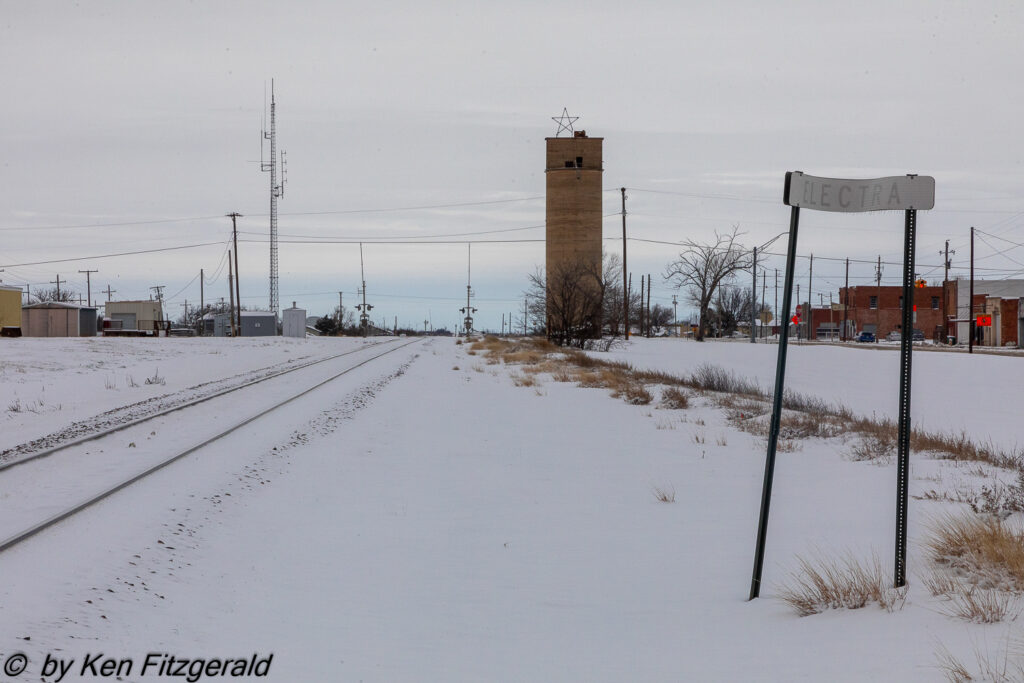 Earlier on the radio I had heard that a westbound manifest train might be leaving Wichita Falls behind the second "Z" train and sure enough when I turned back towards the SUV I saw a headlight in the distance. Now when I said I did not find a working pump jack with a good angle to the tracks, I left out the fact there is a dormant unit on display just to the east of the old elevator. I headed over there and composed this scene with the BNSF 3875 West and the old elevator spur in the foreground.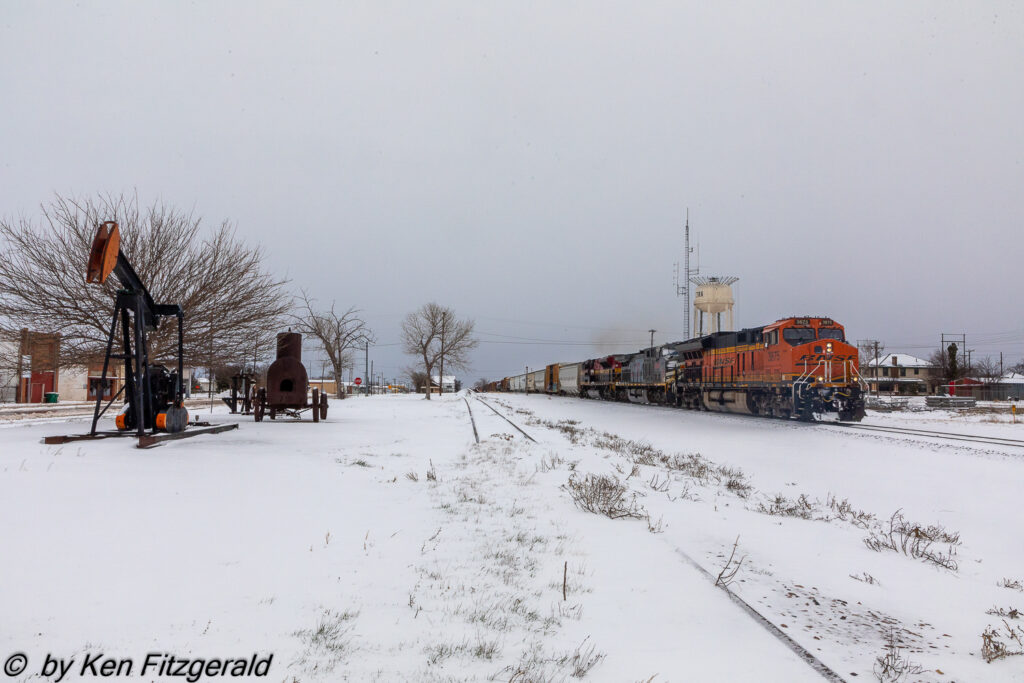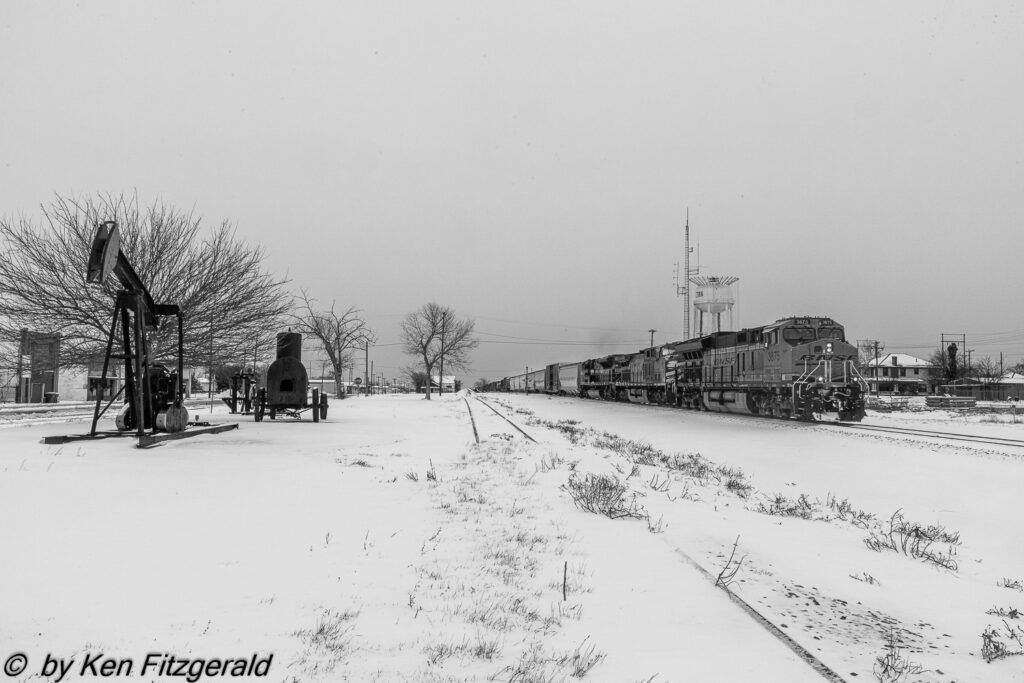 With no indication of more trains in either direction for a few hours, I drove back to Wichita Falls where it was again snowing heavily as I recorded these two Wichita, Tillman & Jackson units idling away in solitude.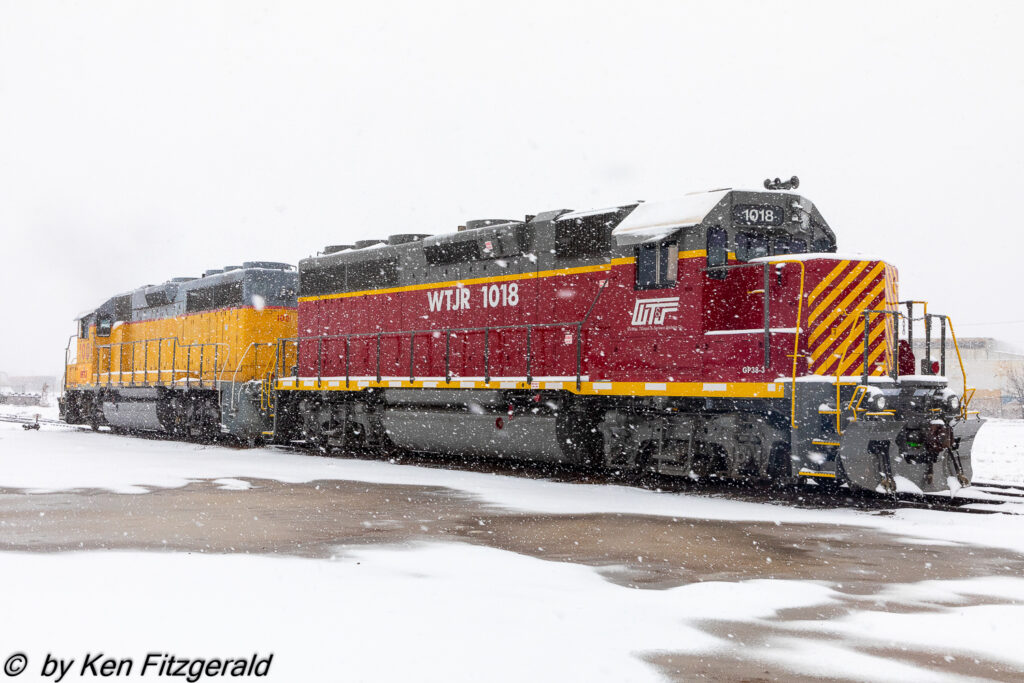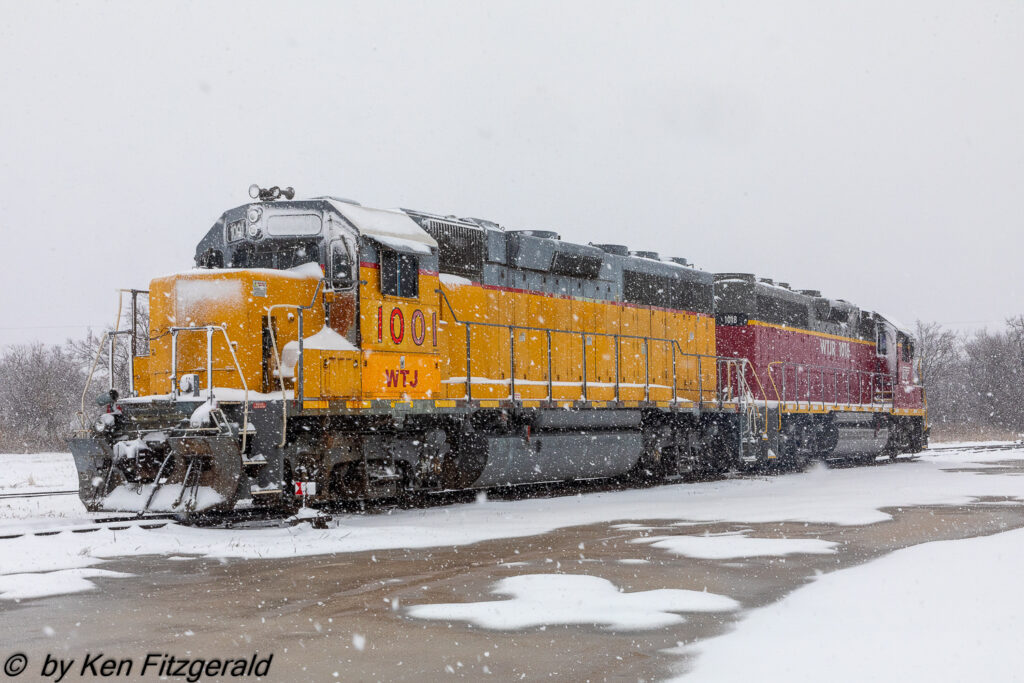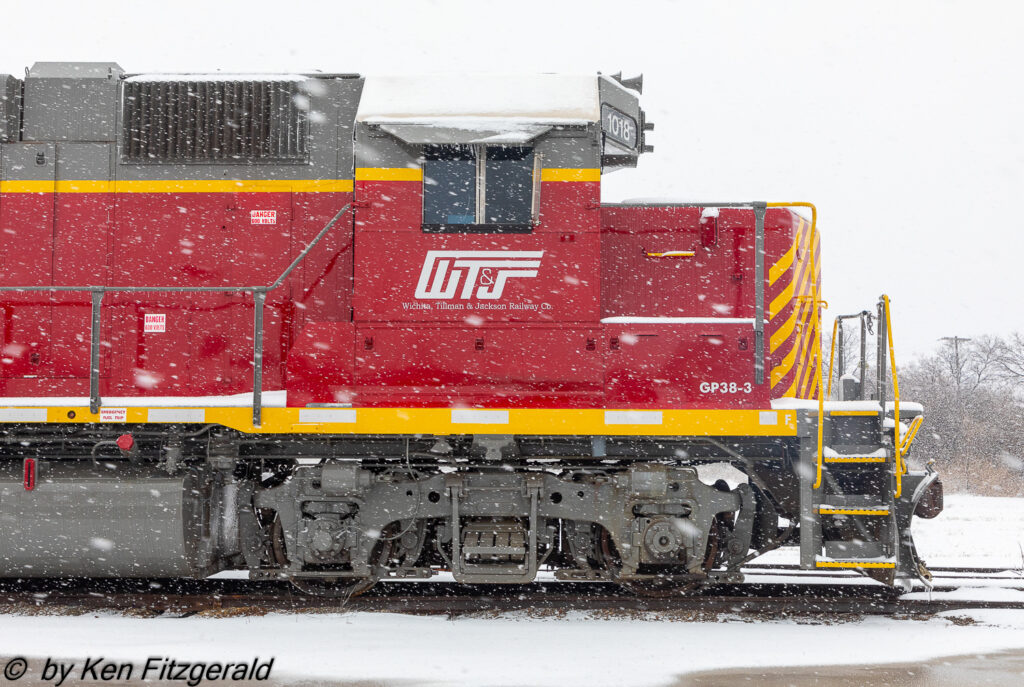 My next stop was the Wichita Falls Railroad Museum, understandably closed and quiet this day along with schools and city offices.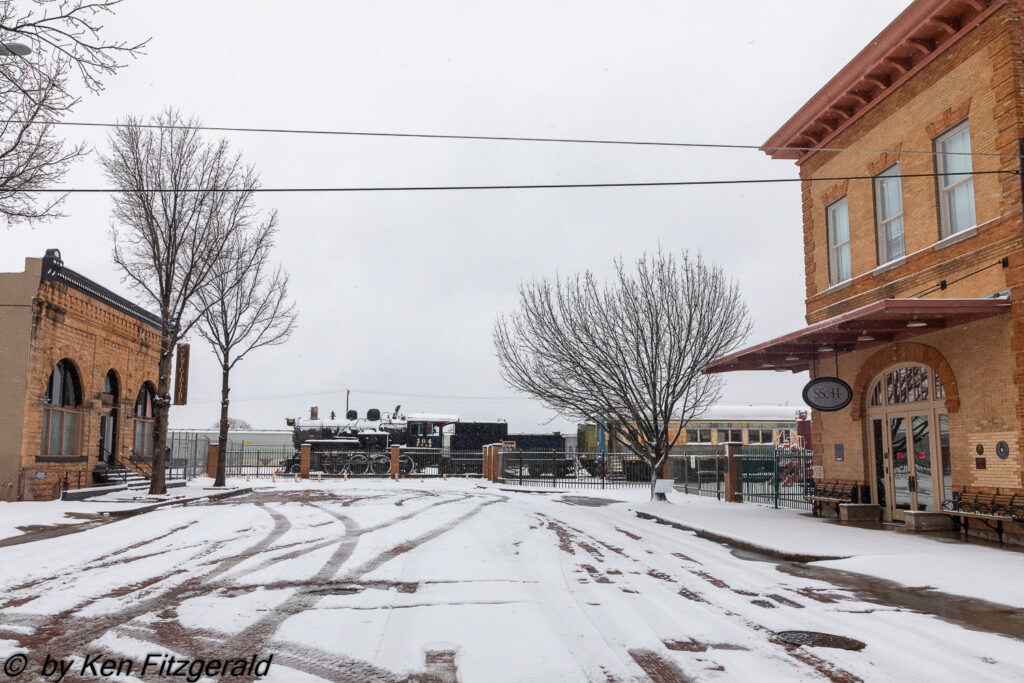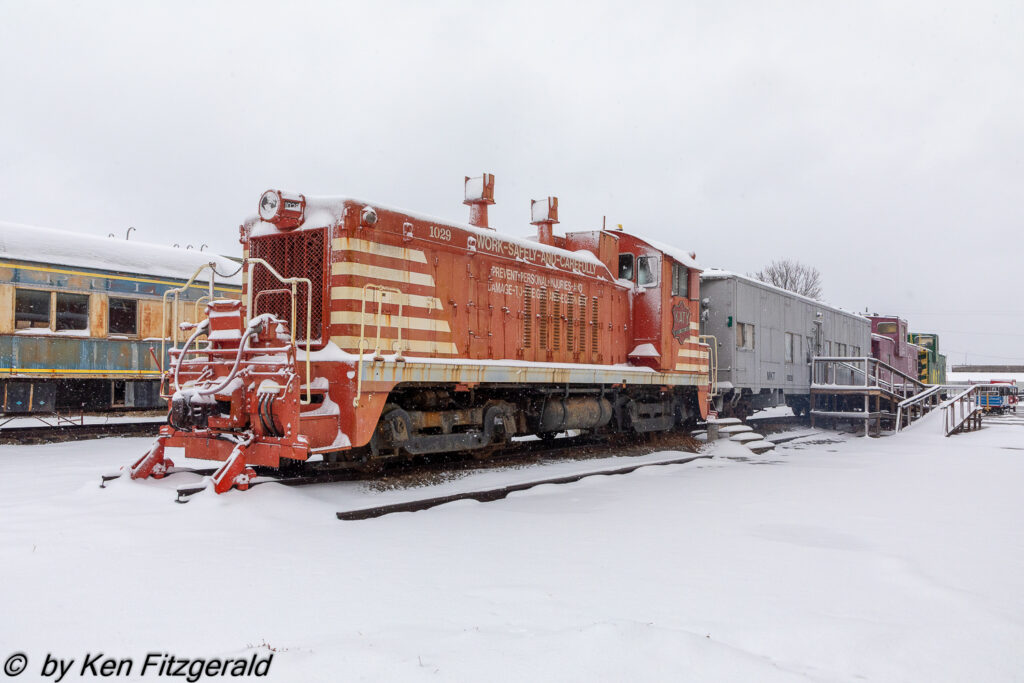 My final stop in town was at the BNSF yard where local power was also stationary with their engines idling away to keep from freezing up. From the look of the accumulated snow and ice none of the units had moved since the storm arrived the night before.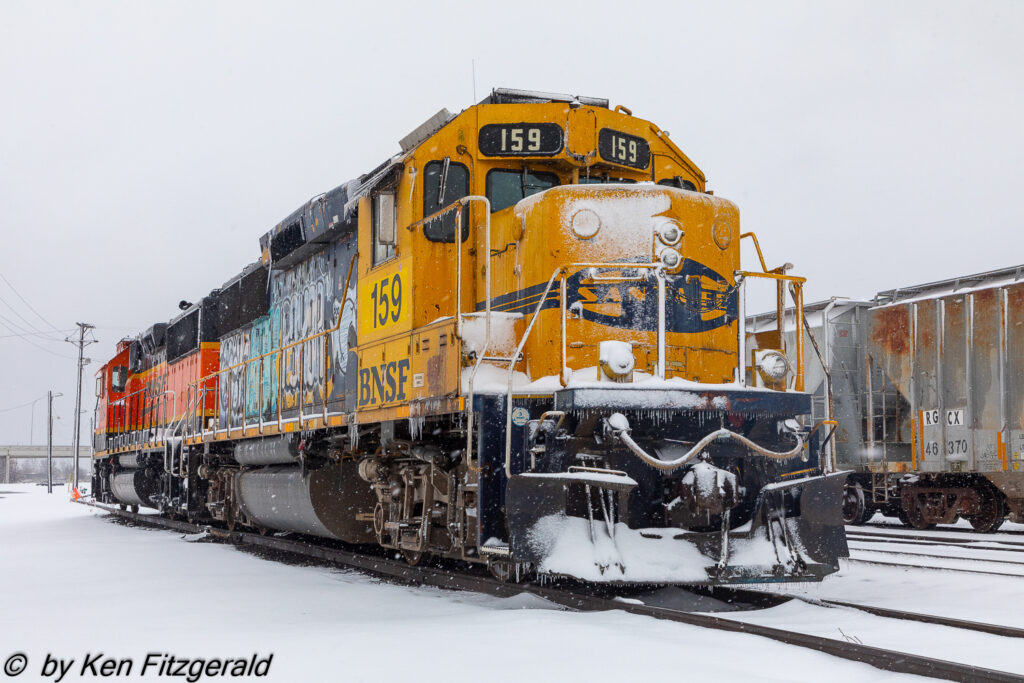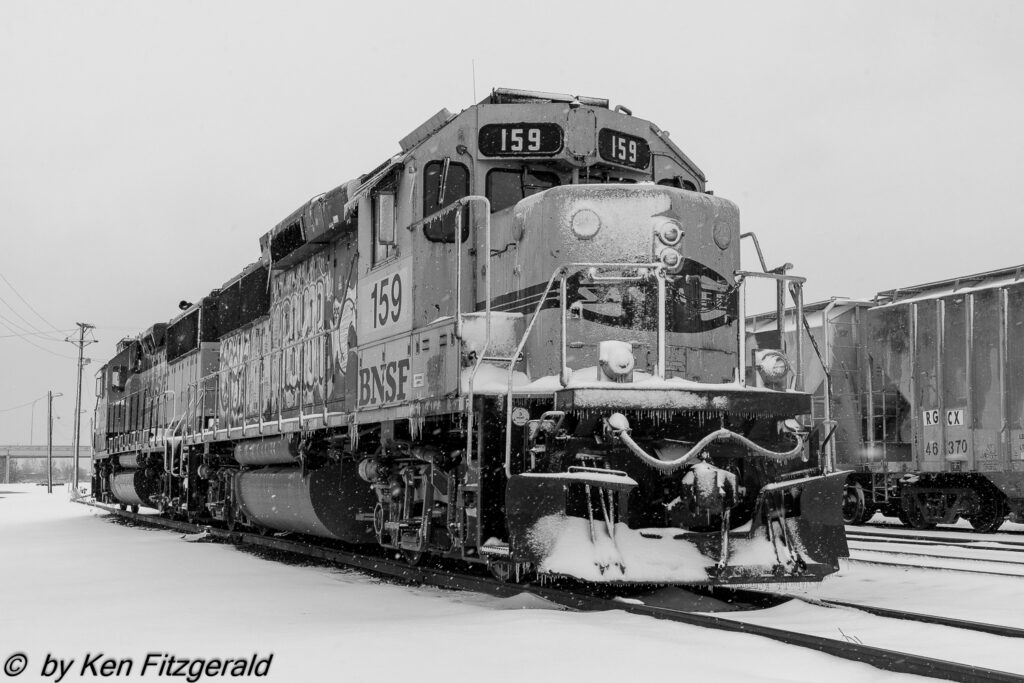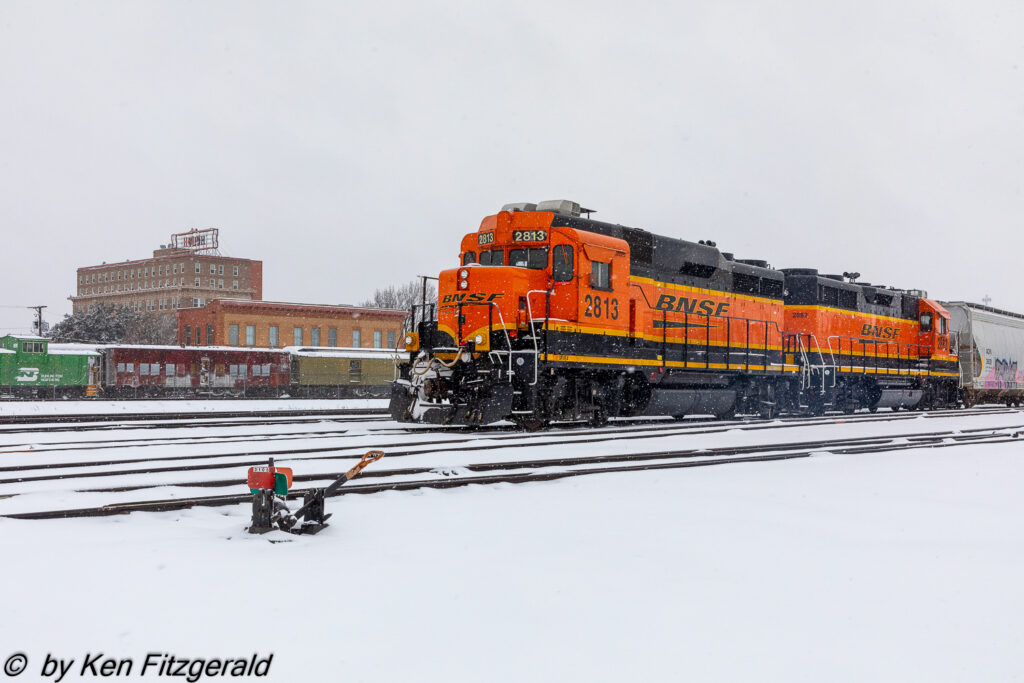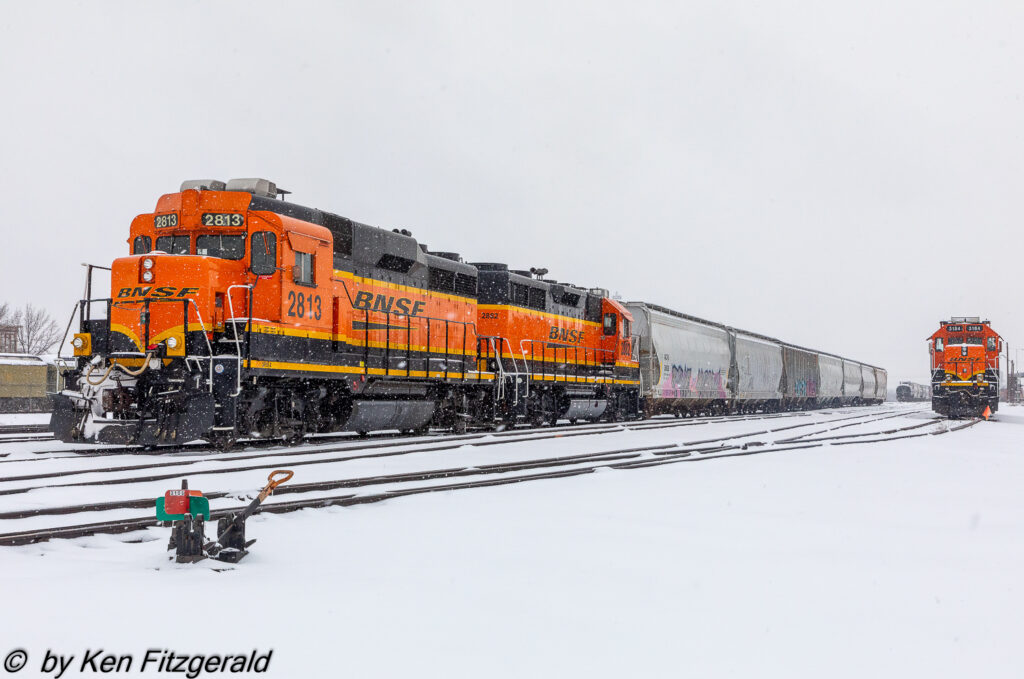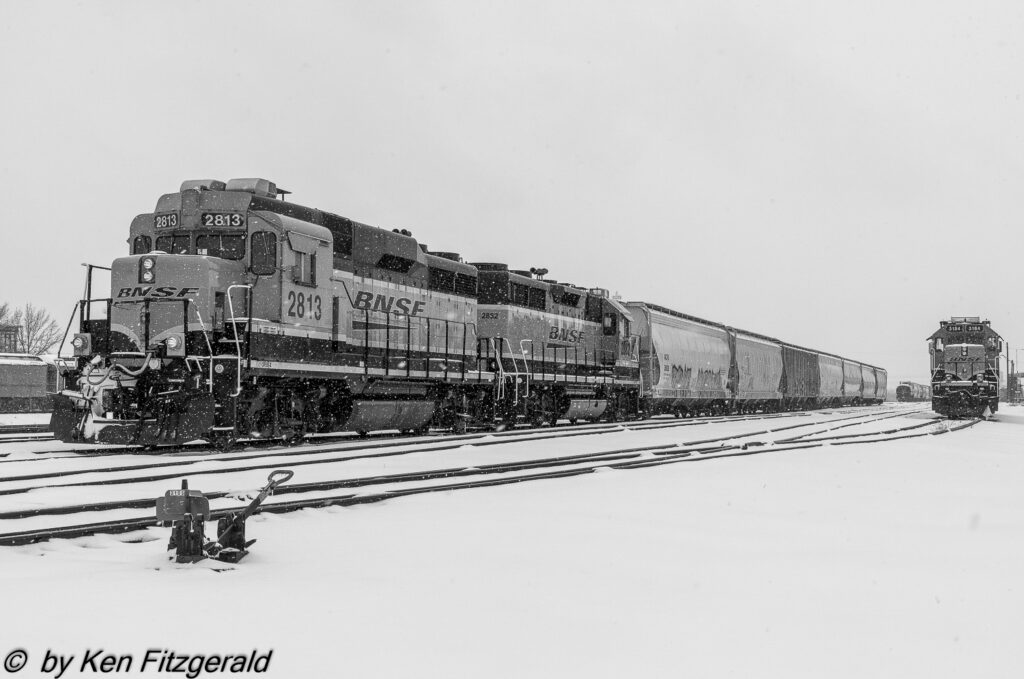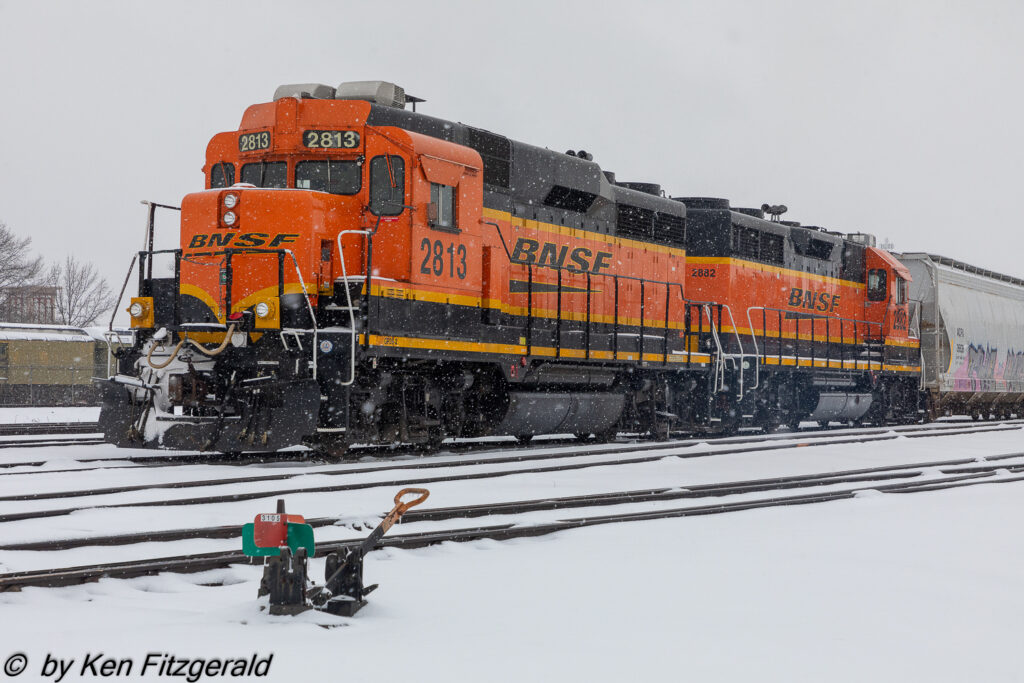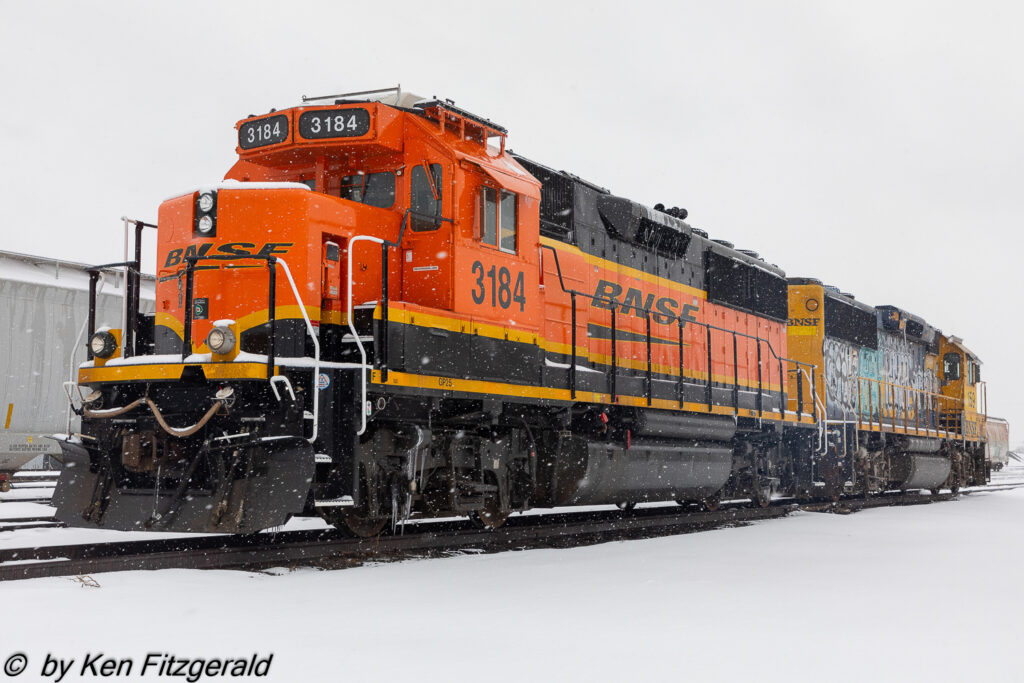 As it was now early afternoon, I decided to start back towards home and look for an open restaurant along the way. Highway 287 was wet but fairly clear with plenty of traffic. On the radio I heard that a westbound intermodal was leaving Fort Worth so I decided to find something to eat in Henrietta and let it come to me. The old style Dairy Queen was open and I enjoyed a burger and fries that brought back memories of past railfan trips. On the way out of town I stopped at this stuffed and mounted ex-BN caboose. The FW&D sub lettering on the cupola also brought back pleasant memories.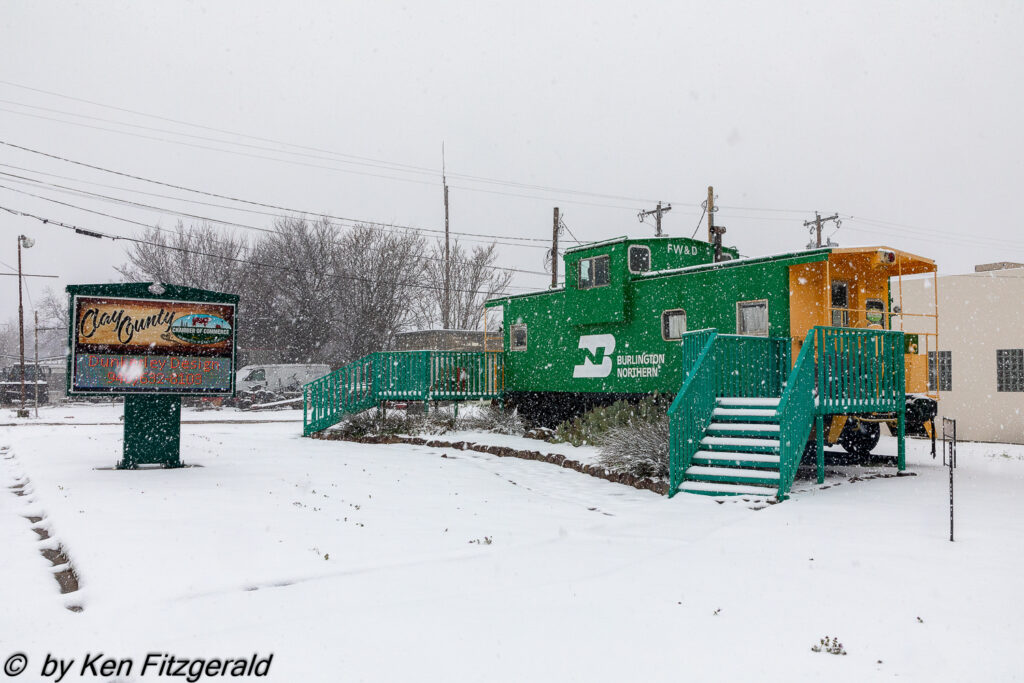 Driving on towards Fort Worth while wary of the oncoming train, I pulled over at the west end of the relatively new siding called Carter between Bowie and Bellevue just as the signals lit up red. At this point the snow and sleet depth was down to about an inch or less. Fifteen minutes later this intermodal flew past me racing cars on paralleling Highway 287.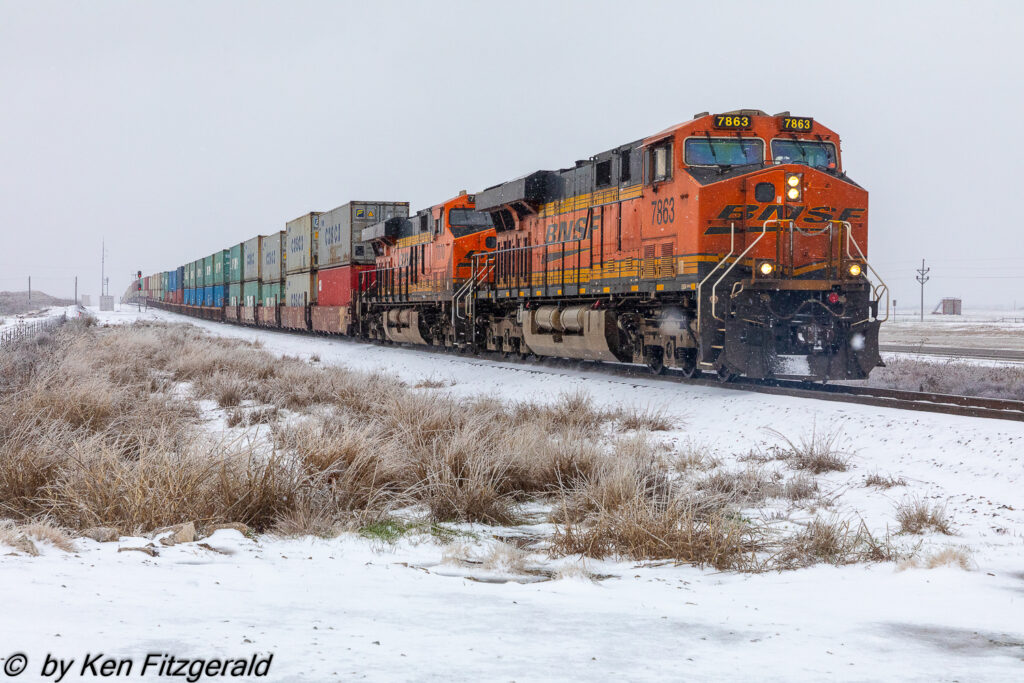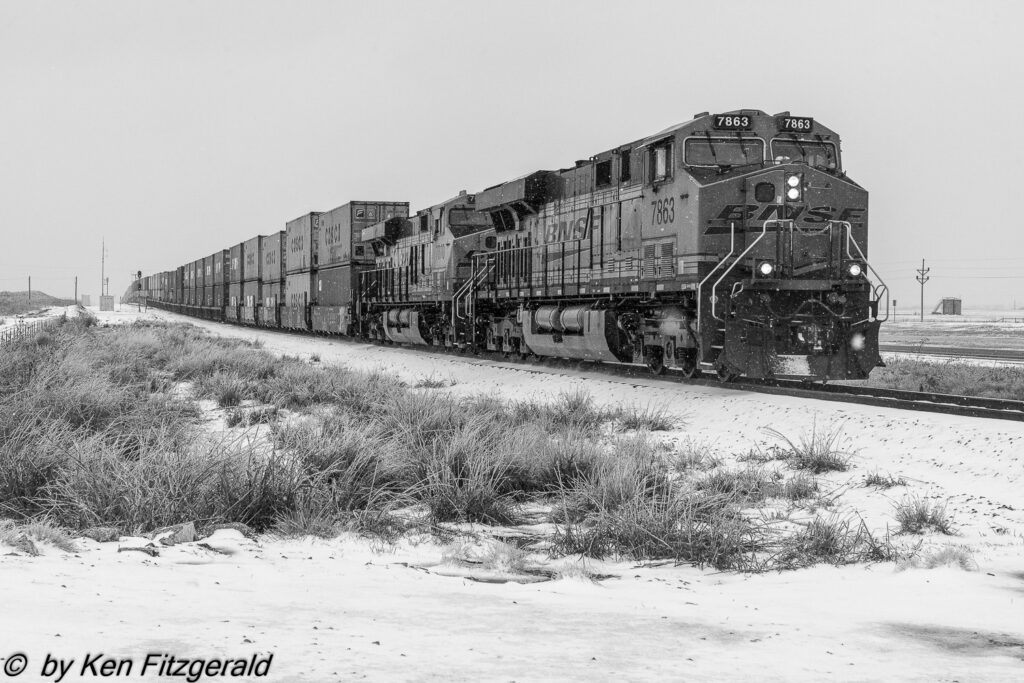 Any signs of snow on the ground ended on the other side of Bowie and this turned out to be the last photo of what I consider to be a successful day of Texas snow photography in my book.