On Saturday January 27th my wife needed to work at her office for a few hours in the morning. I drove her in and after dropping her off I went down to Arizona Street southeast of Tower 55 to see what was running. I arrived just in time to see a southbound BNSF unit train accelerating away from Tower 55 with a line full of undisturbed pigeons overhead.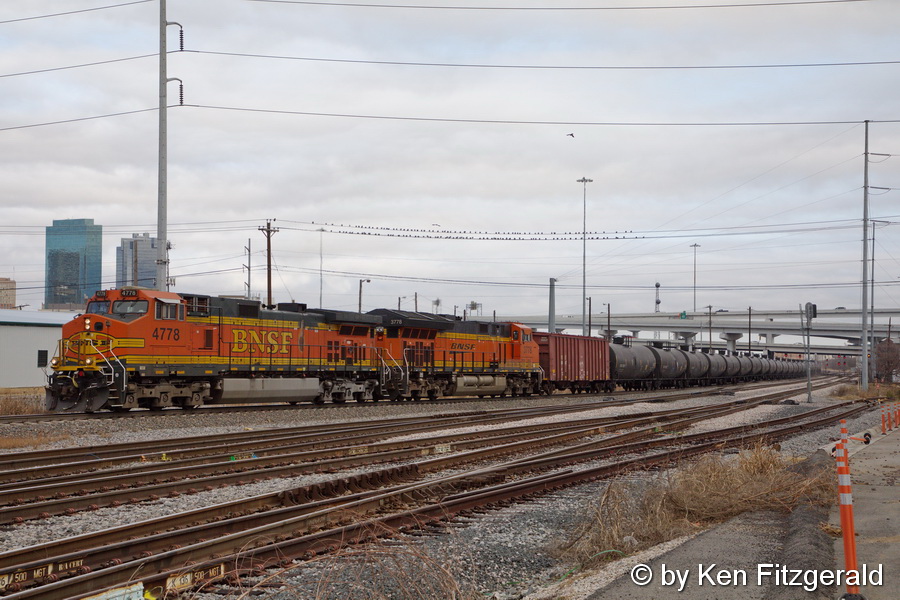 Behind me a northbound UP train was heading towards Tower 55.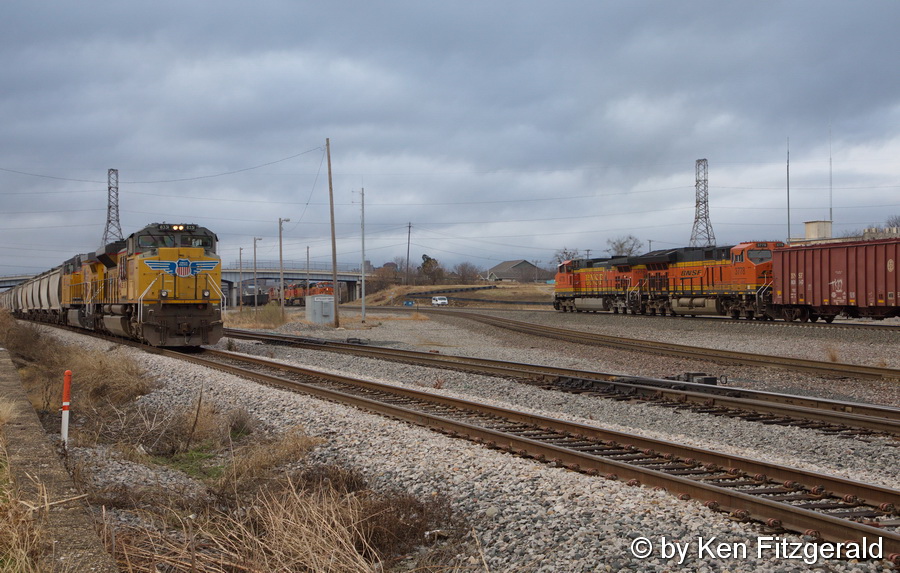 As soon as these two trains had cleared the northbound BNSF in the distance moved on up.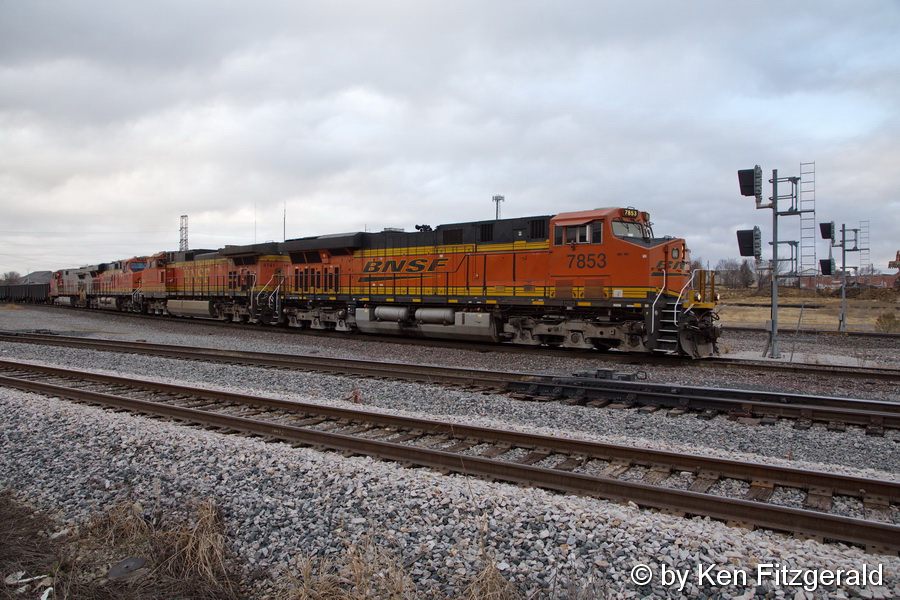 The trailing unit BNSF 728 was an old GE C44-9W which was in one of the last group of units delivered new in warbonnet paint but lettered for BNSF.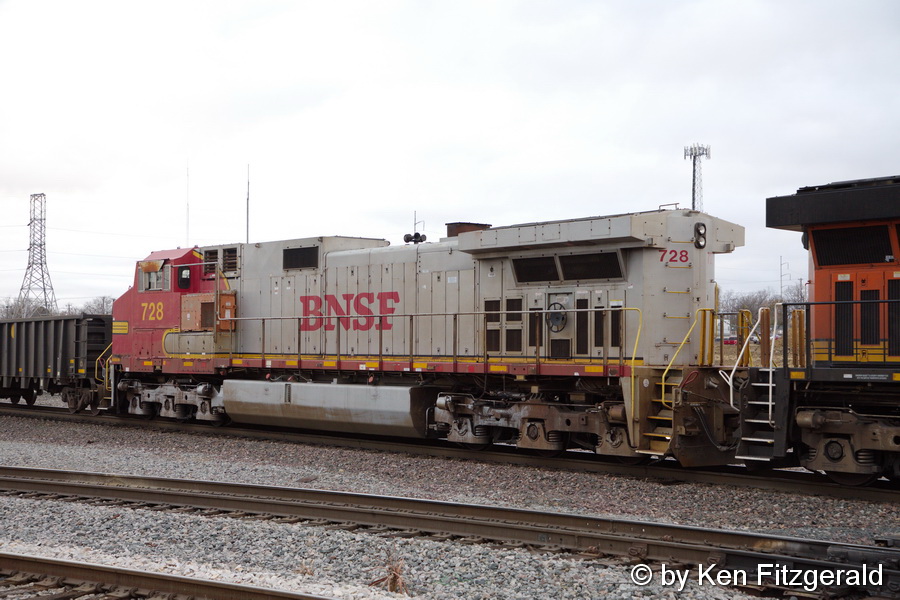 Looking back north I spotted another southbound BNSF train approaching but this time I would be blocked by the northbound train.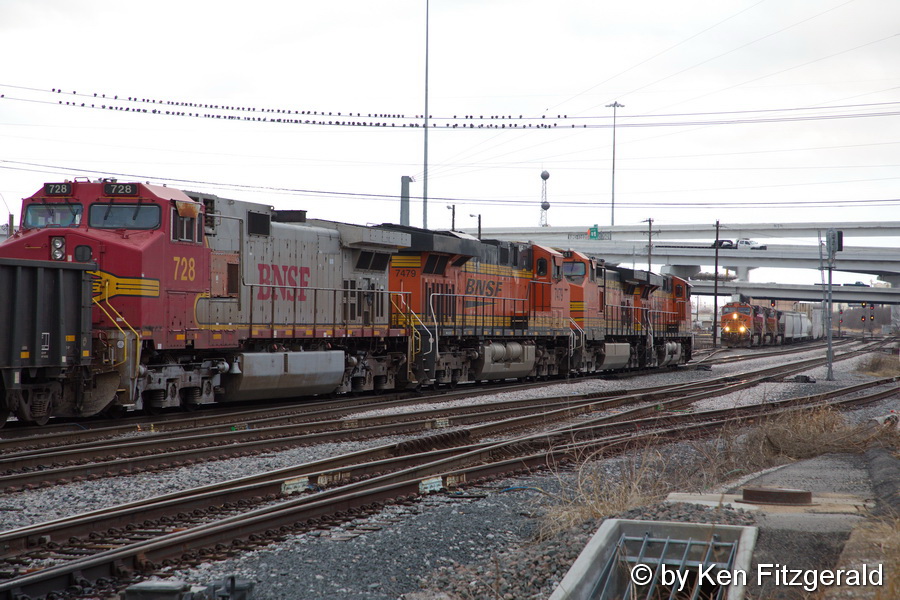 Now there was a 45 minute gap with east and westbound trains running in the distance before the next southbound train; a UP coming around the wye from Davidson Yard as the clouds moved away.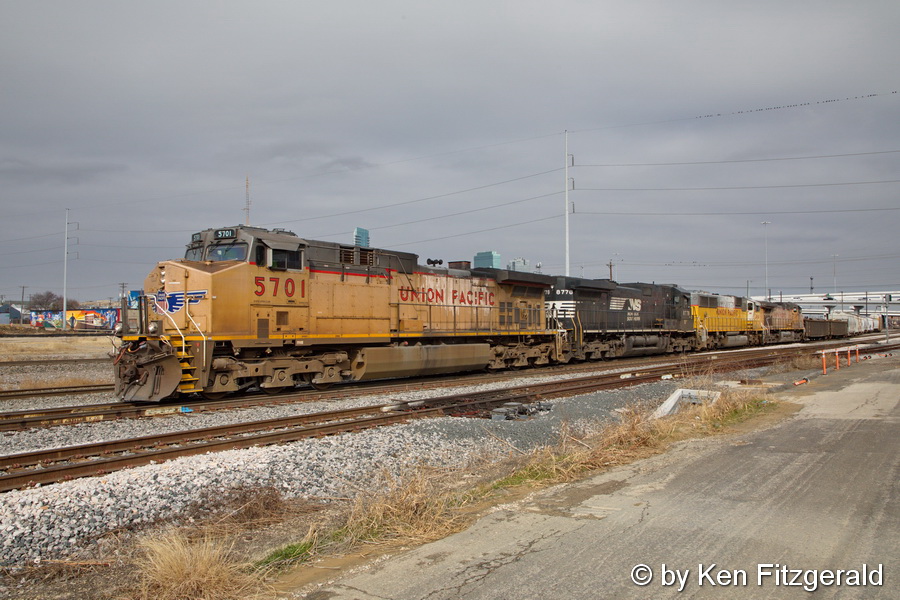 Six axle standard cab locomotives are becoming a minority on the Norfolk Southern so I made sure to get this photo of the second unit, a GE Dash 9-40C.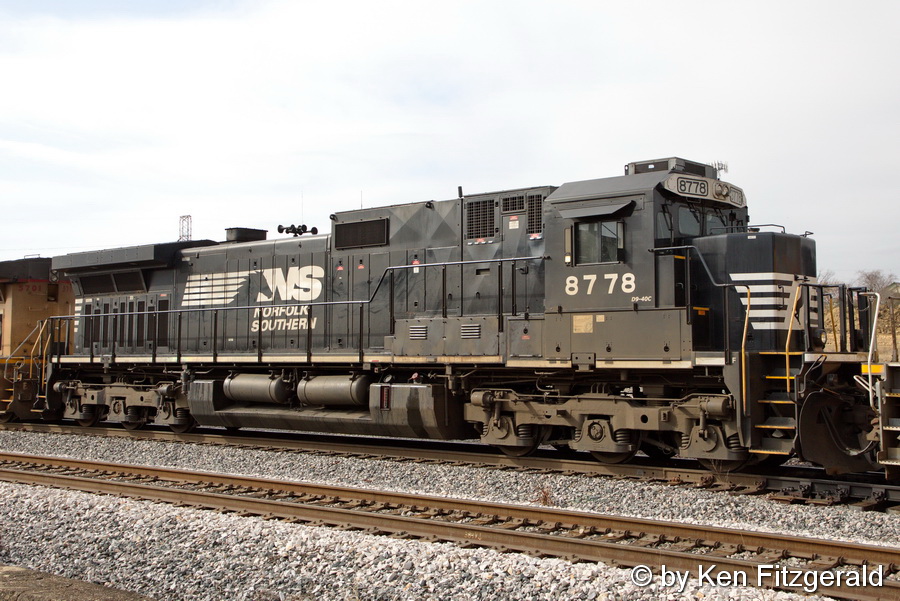 I went back and picked up my wife for lunch before we returned back home. She had brought more work home so I decided to visit the UP in nearby Aledo for a few hours and catch up on my train magazines. I parked at the old Iona depot behind the city office where I could observe the approach-lit signal and only a few minutes passed before it lit up red to indicate a westbound was leaving Iona. I walked up the embankment and soon captured the UP 8323 West leading a loaded frac sand train.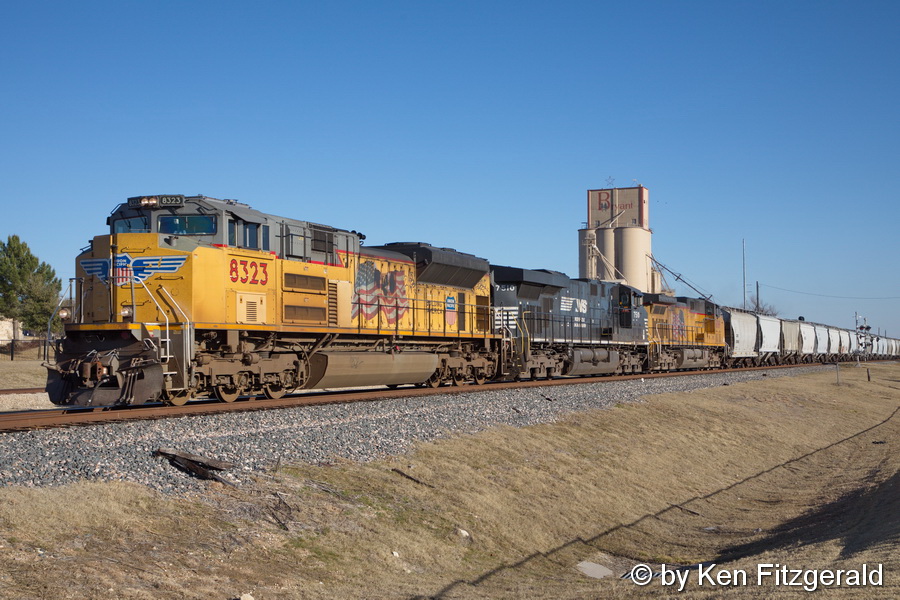 I moved to the west side of the old depot for an unobstructed view of the two DPU's on the rear including one increasingly rare ex-SP unit.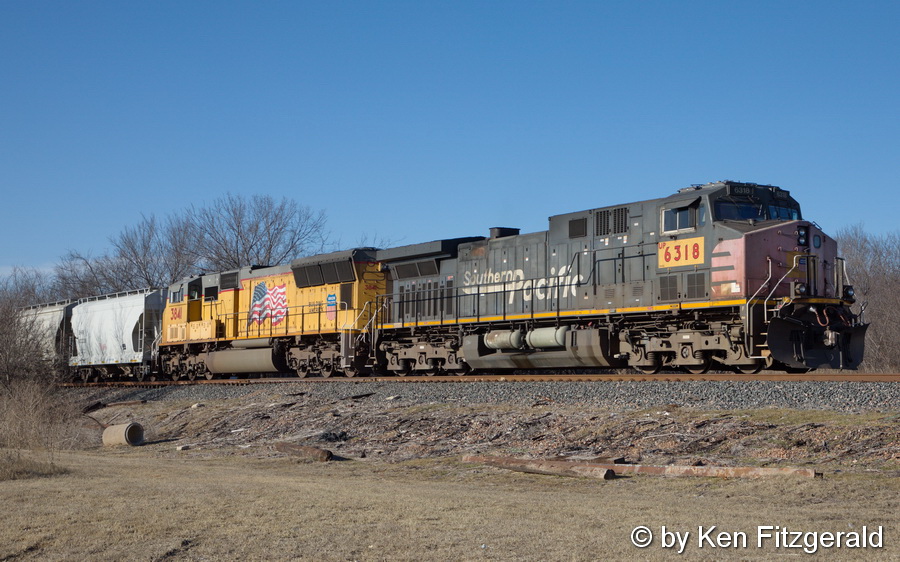 Listening to the radio I heard the westbound would meet two eastbounds at Earls and Weatherford respectively. I continued with my reading until the first eastbound showed up with a rather mundane lashup of a GE C44-9W and a GE ES44AC in fading paint.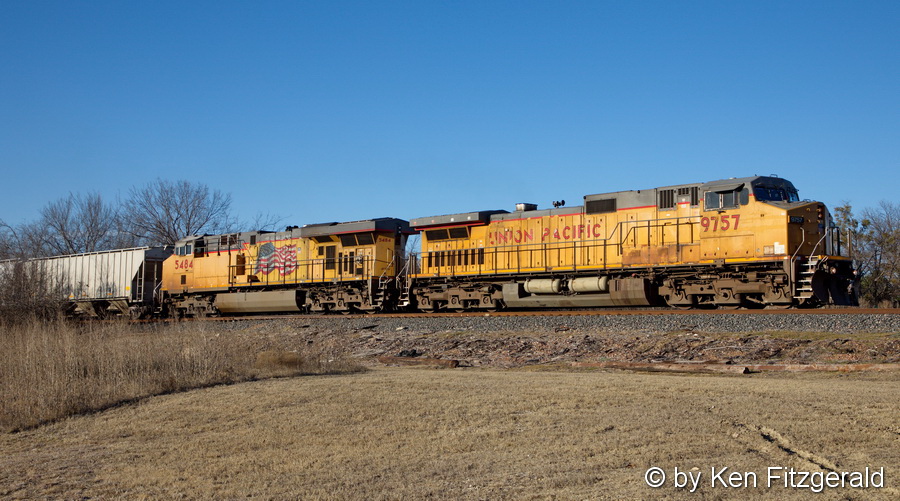 I thought about going home and not waiting for the second eastbound which I heard was led by GE AC4400CW number 7106 and assumed would also be faded and dirty. I decided to wait the extra 30 minutes and to my surprise the time was well worth it when this freshly overhauled and painted unit popped out from behind the trees.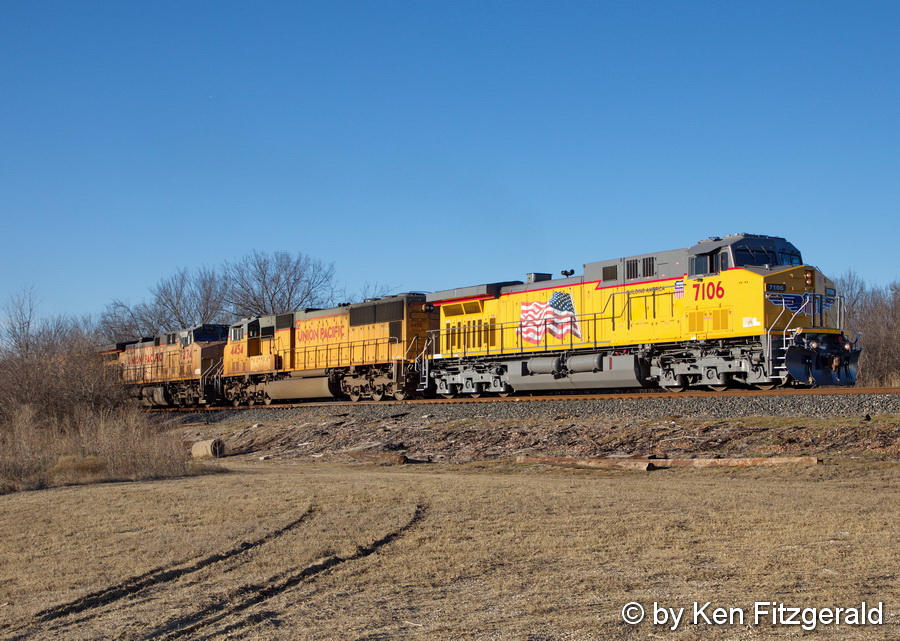 I quickly zoomed in for a closer look before it disappeared behind the depot to the right.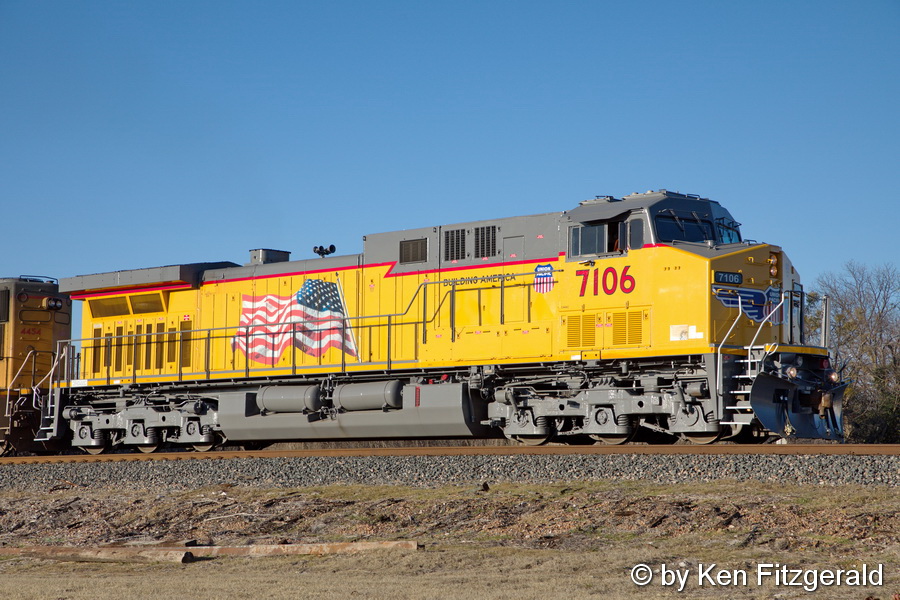 Too bad the sun was slightly behind so the nose was not lit up too but I have no complaints! With this high point to end the day I called it quits.